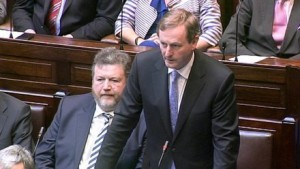 ALL four of the county's town councils will be axed if Fine Gael goes ahead with plans for local government reform, it was revealed today.
Taoiseach Enda Kenny wants every town council in the country closed down to cut tens of millions of euro from the local government bill.
More than 700 councillors across the country would lose their positions under radical proposals.
It would also mean the end for Buncrana, Ballyshannon, Letterkenny and Bundoran town councils.
All their powers would be transferred to Donegal County Council.
It would also mean the loss of dozens of jobs.
"It no longer makes sense to have these extra layers of local government with powers that can be dealt with centrally in Lifford," said one well-placed Donegal Fine Gael politician.
"It will cause upset in our own party because we would lose quite a few town councillors but this country can no longer afford the luxury of town councils," said the source.
The Government will also seek to reduce costs further by offering less generous redundancy payments.
LEAVE YOUR COMMENT BELOW
© 2011 donegaldaily.com, all Rights Reserved
The copying, republication or redistribution of donegaldaily.com Content, including by framing or similar means, is expressly prohibited by law.
Follow us on www.twitter.com/donegaldaily
Follow us on www.facebook.com/donegaldaily
Tags: