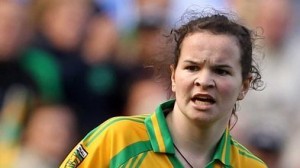 NATIONAL FOOTBALL LEAGUE DIVISION ONE
DONEGAL 1-07, CORK 4-09 at Ballyshannon.
DEFENDING champions Cork began the defence of their Bord Gáis Energy Ladies National Football League Division 1 crown with a comfortable win on their visit to Donegal today, racking up an 11-point victory.
Termon's Geraldine McLaughlin was superb again in the county colours, hitting a personal tally of 1-04, but Cork were just too good.
Nollaig Cleary scored two goals for visitors – one in each half – and it was Cork who led by 2-04 to 0-03 at half-time.
Ciara O'Sullivan and Grace Kearney also raised green flags for the All-Ireland champions, who are targeting a fifth successive Bord Gáis Energy NFL Division 1 crown this year.
Geraldine McLaughlin had a great game but Cork already look as if they will continue to dominate Ladies GAA at this level.
Results:
Bord Gáis Energy Ladies NFL Division 1:

Donegal 1-07 Cork 4-09
Monaghan 2-06 Laois 1-06
Kildare 0-06 Dublin 5-18
Meath 1-12 Tyrone 1-07
Bord Gáis Energy Ladies NFL Division 2
Tipperary 1-10 Kerry 5-14
Clare 0-18 Waterford 1-08
Galway 1-07 Mayo 3-14
Fermanagh 2-05 Cavan 1-09
Bord Gáis Energy Ladies NFL Division 3
Armagh 5-19 Sligo 3-4
Wexford 3-09 Wicklow 2-13
Roscommon 0-03 Westmeath 4-13
Leitrim 5-09 Down 1-05
Bord Gáis Energy Ladies NFL Division 4
Offaly 0-11 Limerick 2-07
Longford 2-15 Louth 0-07
Tags: