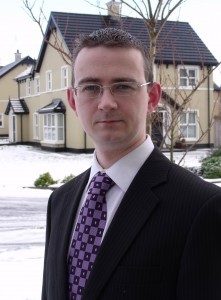 A LEADING campaigner against septic tank charges has hit out at Labour Senator Jimmy Harte over his stance on the issue – and claimed the Government has failed to ask for EU cash which is available to help those who might have to replace their entire systems.
Ryan Stewart told donegaldaily.com that Senator Harte's claims that he and others were scaremongers didn't stand up.
"The truth is that while certain people including groups like Donegal Action Against Austerity, and others around the country, are being labelled as scaremongerers, it is actually the government who have been scaremongering," he claimed.
"No fines will be filed against Ireland in the immediate future if the legislation is not passed. They have forced this legislation through with virtually no discussion, and now they are reeling in the face of resistance from rural Ireland."
And Inishowen man Stewart claimed: "No mention has been made, either, with respect to the possibility of using EU funding to pay for upgrading any deficient septic tanks. The money is there, why has this possibility not been addressed? If this funding was used, it wouldn't cost rural taxpayers a cent to correct the problem."
He went on: "Why should people register, when the government is withholding crucial information about the actual 'ruling' or mincing on what financial supports will be available?"
And in a personal message to Senator Harte, he said: "Jimmy, if you had any bottle, you would be standing up for your people instead of toeing the party line, and be asking these questions yourself to Phil Hogan."
Meanwhile Joseph Murphy, the Donegal man who drove to Dublin at 25mph, is planning a walk to the capital on March 14th and is hoping hundreds will join him on the march.
WHAT THE SENATOR SAID: https://www.donegaldaily.com/2012/02/06/harte-says-slashing-of-septic-tank-fees-will-end-scaremongering/
LEAVE YOUR COMMENT BELOW
© 2011 donegaldaily.com, all Rights Reserved
The copying, republication or redistribution of donegaldaily.com Content, including by framing or similar means, is expressly prohibited by law.
Follow us on www.twitter.com/donegaldaily
Follow us on www.facebook.com/donegaldaily
Tags: