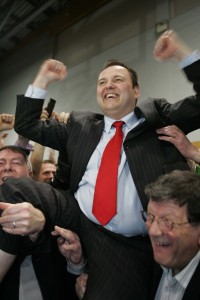 A SINN Fein TD who cuts his political teeth on a town council in Co Donegal says he will oppose plans to abolish them.
Padraig MacLochlainn was involved in a lively discussion on his Facebook page tonight with people who say the town councils in the country should go.
Environment Minister Phil Hogan wants to scrap the urban local authorities to save millions of euro.
But former Buncrana town councillor Deputy MacLochlainn insisted: "This would be a real blow to local democracy in Ireland. This is a time when we need to give more power to local communities, not take it away.
"As someone who served on local councils for just over nine years, I can testify to the focus they put on local needs and holding Government agencies accountable for the delivery of services."
And he said local councillors tend to work together for the good of their area.
"Town Councils are often less about partisan politics and more about local consensus which is another plus. Almost like a community council," he said in response to one voter.
How we told the story on Sunday https://www.donegaldaily.com/2012/02/05/government-to-axe-donegals-town-councils/
JOIN THE DEBATE – LEAVE YOUR COMMENT BELOW.
© 2011 donegaldaily.com, all Rights Reserved
The copying, republication or redistribution of donegaldaily.com Content, including by framing or similar means, is expressly prohibited by law.
Follow us on www.twitter.com/donegaldaily
Follow us on www.facebook.com/donegaldaily
Tags: