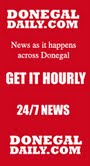 THIS is a special call to the tens of thousands of donegaldaily.com readers abroad –   the Donegal Gathering 2012 initiative goes live later today, Wednesday.
And we are encouraging the massive County Donegal diaspora to join in.
That includes our tens of thousands of readers in the USA, UK, Canada, Australia and 146 other countries around the world.
The Donegal Gathering 2012 tourism initiative will be officially launched by Mayor of Donegal, Cllr. Noel McBride, through live webcast, broadcast worldwide to friends and family from Culdaff to California, Milford to Melbourne at 6pm Irish Time, today Wednesday 8th February in the Radisson Hotel, Letterkenny.
The Donegal Gathering 2012 is a tourism initiative led by Donegal County Council in conjunction with Donegal County Development Board aimed at raising the profile of the county by proudly showcasing the huge range of cultural festivals and events that are held annually throughout Donegal.
The initiative is a key output of the Donegal Diaspora Project which has been established to reach out and connect to our broad global Diaspora – defined as those people with a connection to, or an interest in Donegal.
Said a spokeswoman: "The Donegal family is scattered across the Globe, some people have recently left while others have yet to return home from second or third generation emigration. Others act as proud ambassadors to the county everyday in a wide variety of professional roles.
"Whatever the history, maintaining that connection to 'Home' is a cornerstone of happiness and the Donegal Gathering 2012 will connect everyone to all that's on offer across our county, extending a heartfelt welcome to both native emigrants planning a homecoming holiday, and first-time explorers embarking on a truly unique adventure."
Mayor of County Donegal, Cllr. Noel Mc Bride commented: "The Gathering will showcase the best Donegal has to offer and target the Global Irish in all four corners of the globe. County Donegal has a jam-packed calendar of events in 2012 for every visitor.
"The Gathering is also a chance for the tourism businesses and accommodation providers to put together packages, special offers that will excite visitors from all round Ireland and in the main markets of the UK, US and mainland Europe."
'Live Trad' will broadcast the launch using the latest technology where interaction occurs through instant messaging with thousands of online viewers worldwide. These requests and greetings will be read out on air, helping to bring viewers a little closer to where the webcast is taking place.
The Gathering 2012 will be hosted by County Mayor, Noel Mc Bride and include a performance from world-renowned musician, Moya Brennan.
In addition, as a token of extending the hand of friendship to our relatives and friends abroad Mayor McBride will host a draw for 12 Golden Homecoming tickets to be distributed to 12 Donegal Associations worldwide, which will include free accommodation and admission to one of the Gathering events.
People everywhere can get involved. If you have friends, colleagues or family with a connection to Donegal, encourage them to log in to www.livetrad.com to watch the launch live from the Radisson today at 6pm Irish Time – even better, if you are in Donegal, come down and support us in person!