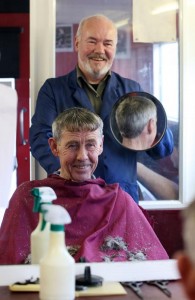 Ireland's only mobile barber is about to hang up his scissors after 20 years on the road.
Businessman Eamon Friel from Milford is about to retire but he is adamant he wants to leave his salon in safe hands.
The 62 year old has cut hair across Donegal for the past two decades but has decided to take a back-seat to live life on the 'fringes.'
However he wants to pass on the tradition to someone who will help cut the hair of people across Donegal from Dungloe to Glenties.
Eamon, who was born in Scotland to Donegal parents, moved to Ireland in 1978, after doing his barber training in Glasgow.
He tried his hand at a number of jobs including building but always had a love for socialising and chatting with people while cutting hair.
It was while travelling across Donegal that he noticed a lack of barber shops in rural towns in the North West.
"I saw a real opening and at first I thought I could rent a room here or there for a day but that was difficult.
"I then thought I could get a trailer and put it onto the back of a car and tow it around but I didn't fancy the idea of towing a trailer.
"I then spotted a mobile bank doing the rounds and I knew that was the answer," he said.
In 1991 Eamon bought a Fiat Iveco which was an old AIB mobile bank and set about customizing it to his own needs for the barber shop.
Over the years he added on various bits and pieces from two Ford Caro vans before four years ago buying his current Renault Midliner vehicle, which was originally a mobile library.
Eamon has certain days of each month on which he travels to various towns across Donegal including Falcarragh, Gaoth Dobhair, Dungloe, Milford, Ramelton, Rathmullan and Glenties.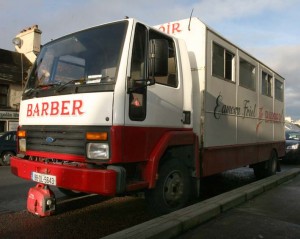 Despite enjoying a wonderfully rewarding career, the father of five from Milford admits that things didn't get off to the best of starts.
"I thought I would follow the farmer's marts around the county and pull up outside the marts when farmers were waiting to buy and sell livestock.
"But it was a disaster. They just didn't seem to be interested. So I packed up and set up on specific days in each town," he said.
Eamon, who only does dry haircuts, has never been stopped by Gardai in his 20 years on the road but has had his petrol tank dipped by Customs officials checking for illegal diesel.
He never allowed anyone under the influence of alcohol to have their hair cut for insurance reasons and remembers profitable day having fourteen people waiting to have their hair cut.
"I used to tell them to leave their heads there and come back in a while when they were finished in the town for the craic," laughed Eamon.
He admits that he has encountered some protest from women after refusing to cut their hair.
"I am a man's barber and that is what I trained as. I have been called a male chauvinist because I don't cut women's hair but that's just how it is," he said.
The only 'famous' person's locks that Eamon has trimmed has been Sinn Fein President Gerry Adams, who has a holiday home near Falcarragh.
"I didn't get into a big political conversation with him. We just stuck to the usual chat about the weather.
"I didn't know whether to charge him or not but I did in the end. He was a nice man, full of chat."
Although the styles have changed over the years, Eamon has managed to keep up with the changes from the 'flat' to the various trends set by celebrities including footballer David Beckham.
Now as he prepares to hang up his razor and comb, Eamon wants someone to take over his 'run.'
"It's a good business opportunity for someone and I would like to pass on the run and the barber van.
"It has given me many years of pleasure and I have met some great people. It has provided a life for myself my wife Shiela and our children Treacy, Roisin, Eilis, Cecelia and Eamon Og.
"I would like to think that the van could do the same for someone else starting out in life," he said.
Tags: