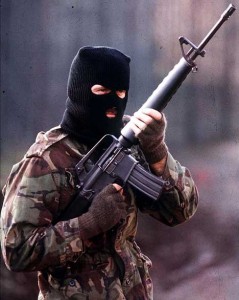 UPDATED: FORENSIC officers are today at the scene of the horrendous murder of Andy Allen in Buncrana as the shocking killing was widely condemned.
PSNI detectives from Derry are helping gardai investigating Republican Action Against Drugs involvement in the killing.
At least three members of the RAAD gang burst into Mr Allen's home in Buncrana last night and shot him a number of times in the head and body.
The 25-year-old was pronounced dead at the scene.
Local TD Padraig MacLochlainn said he believed the gang set out to murder the father of two, rather than a 'scare shooting' gone wrong
Andrew 'Andy' Allen was hit several times when terrorists from the group Republican Action Against Drugs struck at his home in Links View in Buncrana.
The gunmen struck at 9.25pm last night and were merciless in their assault.
They opened up through a front window, fatally wounding Mr Allen who was from the nationalist Top of the Hill area of Derry's Waterside. At least three gunmen were involved and Andy Allen died at the scene an hour later.
Reliable sources say that Mr Allen had been ordered out of Derry in the past few weeks.
TD MacLochlainn said: "The community in Buncrana is shocked and horrified that a man has been shot in our town. Our thoughts are with the victim's family at this extremely difficult time.
"The people who carried out this killing do not represent republicans or anyone else in the wider community and I once again call on them to stop."
There is anger in Derry too at the murder with MP Mark Durkan saying "I totally and absolutely condemn this brutal and cowardly murder which is a throwback to the very worst of our past.
"The people of Derry will be disgusted and appalled to learn of this attack. There can be no justification or excuse for this callous crime.
"Those responsible are stuck in their old Provoist ways. This murder is an affront to the local community who want violence such as this to stay in the past. Those responsible have absolutely no mandate and no support.
"I would urge anyone with any information to contact the PSNI or Gardai about this murder as matter of urgency."
© 2011 donegaldaily.com, all Rights Reserved
The copying, republication or redistribution of donegaldaily.com Content, including by framing or similar means, is expressly prohibited by law.
Follow us on www.twitter.com/donegaldaily
Follow us on www.facebook.com/donegaldaily
Tags: