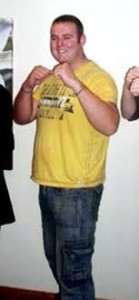 GARDAI and the PSNI are investigating the possibility that Andy Allen was shot dead in Buncrana because he had breached a terrorist 'city ban' by visiting his two children hours before his brutal murder.
The father of two had been ordered to leave Derry five months ago by Republican Action Against Drugs.
Now it has emerged that he made several visits to the city to see his children, who still lived there with their mother.
Gardai are investigating claims that he visited Derry on Thursday to see his children.
Hours later he was gunned down in his bedroom at the rented house at Links View Park.
A post mortem was carried out on Mr Allen's body at Letterkenny General Hospital last night.
Gardai locally were not aware of his presence in Lisfannon area.
More than 40 people have been forced out of Derry by RAAD and other splinter terror groups in the past 12 months.
It's not known how many of them have moved to Co Donegal but one Garda source told us: "In light of this murder we believe anyone who has been threatened should inform their local garda station."
RAAD had accused Mr Allen of selling cocaine and cannabis.
However local MP Mark Durkan has cautioned against "taking the word" of terror organisations who had meted out "summary justice."
Tags: