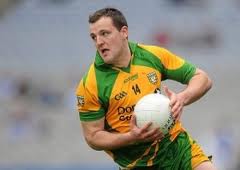 COMMENT & ANALYSIS ON DONEGAL GAA BY CATHAL MAC SUIBHNE: Donegal were served a dose of their own medicine today as they ran into a blue and white Laois wall at O'Donnell Park.
For the majority of the game they could find little or no way through the O'Moore rearguard while at the same time leaving plenty of room for the visitors at the back and they took full advantage.
If ever a scoreline gave a false impression of proceedings the 2-9 to 2-6 total at the end did just that. It was flattering on Donegal who were never in the game at any stage.
Laois popped over some fine early scores, capitalising on a lethargic Donegal start, in what was a similar pattern to that of last year's encounter in Portlaoise. On that day MJ Tierney led the way in the point scoring stakes, today though it was Ross Munnelly who produced some memorable points to set his team on their way.
A reshuffle before throw-in saw Neil Gallagher positioned on the edge of the square as Jim McGuinness set out his stall early. Long ball after long ball was pumped in on top of the Glenswilly man and while this had worked to good effect on many occasions during his club's wonderful Championship campaign last year, it didn't bear fruit today. Laois had a sweeper in front of him and unfortunately he saw more of the ball than Gallagher. At the other end though Laois' midfielder-cum-full forward Padraig Clancy had an excellent day, scoring 1-1 and leaving his fingerprints over many of the visitors' scores.
Parallels can certainly be drawn with last year when both these sides plied their trade in the second tier; then, as now, Laois looked to be flying at this time of year, beating Donegal and Derry among others on their way to promotion. However they flattered to deceive in the Championship and you'd certainly have to wonder about the training regimes of both teams at present.
Rory Gallagher spoke afterwards about how far behind Donegal are on other teams in relation to sharpness and fitness and the evidence was in plentiful supply today. The lads are still likely to be undergoing tough training sessions with emphasis on conditioning for the summer ahead rather than on attaining a certain level of sharpness and improving touch and control. Some of the heavy legs and rustiness that we saw during the McKenna Cup are still evident in some of the players.
As Down showed last week, the half back line dictates most of the play in modern Gaelic Games and while the Mournemen got a large number of scores from this unit, Donegal today couldn't repeat the trick. The absence of Michael Murphy and Colm McFadden is being keenly felt at present; it was hoped that others amongst the forwards would be able to step up and fill the gap this hasn't happened yet.
When the dynamic duo are in the side the whole focus of Donegal play is to stop the opposition scoring, turn over possession and get the ball into the inside line and they will do the rest. The ideas employed to cope with their absence aren't quite coming off right now and the onus is on the half back line of Karl Lacey, Anthony Thompson and Leo McLoone to get forward and support. Today we saw this but it led to large gaps at the back and Laois were able to pick off scores at ease any time a Donegal move broke down.
Aside from the condition of the teams though and also the non-availablility of key players, overall today there were just too many unforced errors and too much sloppiness and this led to the huge eleven point lead that Laois enjoyed at one stage. The team stuck at it though and kept the effort up and were eventually rewarded with a couple of goals, even though the first appeared to have stayed on the line rather than rolling over it.
Young Martin Reilly did well throughout as did the energizer bunny that is Mark McHugh. These two, along with Paddy McGrath and Ryan Bradley, put in a Trojan amount of work but unfortunately too many of their team mates did not reach the required level of performance.
While the league position we find ourselves in and the general level of display is disappointing, the most worrying aspect of today's game was the sight of Lacey hobbling off with what could be a reoccurrence of the knee injury he sustained at Croke Park last August. There's been no update as of yet on what the injury is but he is certainly in the indispensable category and it would be a huge blow if he were to spend some time on the treatment table.
The mini break that now takes place in the league should allow Donegal to ease down on the heavy training and get back to achieving a better level of performance. That will most definitely be needed as we face into a daunting set of fixtures against Cork, Kerry, Mayo and Dublin. The next three weeks will be critical in the team's 2012 development and will have a big baring on what division we'll be playing our league football in next year. The Messiah has work to do.
LEAVE YOUR COMMENT BELOW
© 2011 donegaldaily.com, all Rights Reserved
The copying, republication or redistribution of donegaldaily.com Content, including by framing or similar means, is expressly prohibited by law.
Follow us on www.twitter.com/donegaldaily
Follow us on www.facebook.com/donegaldaily
Tags: