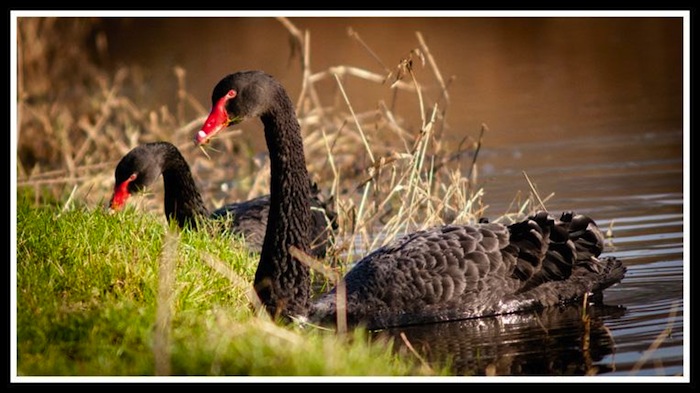 Birdwatchers are awaiting a rare arrival in Co Donegal – a brood of Black Swans.
Two of the striking birds have paired up at Inch Wildfowl Reserve and could be about to produce the first such brood in the wild in Ireland.
The swans, which come from Australia, are believed to have escaped separately from captivity at some stage.
The pair did give birth last year to a number of cygnets but the young birds were washed away and died after heavy rains.
Now birdwatchers are monitoring the birds as they prepare to breed once again.
Niall Hatch of Birdwatch Ireland said the arrival of a family of Black Swans would be a rare occasion.
"Black Swans are native to Australia and the only explanation is that they escaped together or separately from captivity at some stage.
"It is very unusual that a pair have mated in Ireland. If they do manage to breed successfully then it will be even more unusual," he said.
Birdwatchers have been gathering at huts set up at the reserve to catch early morning glimpses of the elusive pair.
The birds nest any time between February and September and will have between 4 and 8 eggs at a time and the incubation period will be between 35 to 40 days.
When born, the cygnets will spend up to nine months with the parents before going their own way.
Local National Parks and Wildlife Service ranger Emmett Johnston said the survival of any young Black Swans was in the hands of nature.
"They nest in reeds and if there is a lot of rainfall and the nest gets too wet then the young birds could perish," he warned.
PHOTO BY KIND PERMISSION OF JUSTIN MACLOCHLAINN OF THE BUNCRANA CAMERA CLUB.
Tags: