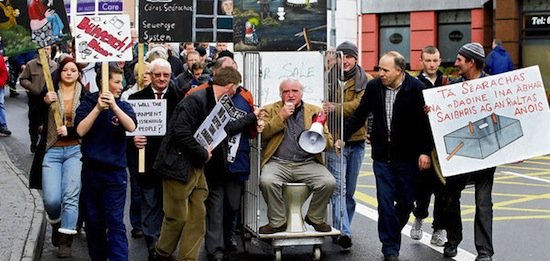 A major protest planned for Dublin on the 22nd of February has been delayed until the following week, the 29th February, organisers have said.
According to Donegal Action Against Austerity (DAAA), the protest which was originally organised to coincide with a blockade of the capital by the Road Haulage Association, has taken on a life of its own, and the group have been inundated with messages of support, and pledges from groups country wide.
We understand some hauliers plan to 'hit' Dublin in the early hours of next Monday – with a special Garda unit hoping to thwart those plans.
DAAA however says its protest has been postponed for a week.
"We have had no option but to postpone the protest until the 29th, as so many people want to be part of what we have planned. However this has meant that we have to co-ordinate with different groups around the country, who are all in the same frame of mind as ourselves, and we want to ensure that this is done right," said John McLaughlin, one of the organisers, from Donegal Action Against Austerity.
"While the hauliers have their own agenda, we wanted to make this about more than one group, about the people who are hurting more than anything, so this is something that people can really support and get involved in."
Focus groups and protestors from counties including Cork, Limerick, Donegal, Galway, Roscommon and Dublin are joining in with the protest, and while no confirmation has been forthcoming about the hauliers' blockade of the capital, the groups are adamant that they will make the government listen, with or without the hauliers.
PRO for the group, Ryan Stewart said, "There is a real willingness from people to be part of something here. We have held meetings in towns and villages around Donegal, and the response has been tremendous, with hundreds attending each meeting, thousands in total.
"There are also people coming out to voice their opinion, who may not have had the courage to do so before. With the number of cuts, levies and taxes being imposed, people really have had enough, and they just want to do something about it. The forgotten county wants to give the government something to remember this time."
Páraic Ó Conghaola, from Connemara, who led a protest of over 5000 to the Dail only a month ago, added, "There is strength in numbers, and we have the numbers. We must stand together if we are to win and show this Government that the blood of the rural Ireland is boiling, and we will not stop until we get justice and equality for all.
"Come to Dublin and stand proudly with your fellow Irish people and show them we will not lie down. County by county, people are committing to this, and we have to make a stand. Whatever your cause may be, get out and get your voice heard."
The groups have announced that the Spire on O'Connell Street will be the rally point from 12 noon, on the 29th February, and that a march to the Dail will leave from 1:30pm. Buses are being organised to bring people to and from the capital, and anyone wishing to travel is being asked to contact the group by email or text. Text your name and town to 086 3383 090 to book your spot on a coach.
LEAVE YOUR COMMENT BELOW
© 2011 donegaldaily.com, all Rights Reserved
The copying, republication or redistribution of donegaldaily.com Content, including by framing or similar means, is expressly prohibited by law.
Follow us on www.twitter.com/donegaldaily
Follow us on www.facebook.com/donegaldaily
Tags: