Donegal boxer Cathal McMonagle is spearheading a campaign to highlight the issue of suicide.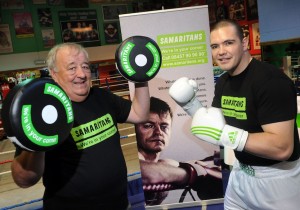 The Letterkenny heavyweight has teamed up with the Samaritans for the launch of the 'We're In Your Corner' scheme which was launched today.
To highlight the issue, a large boxing ring has been erected in the waiting area of Belfast Central Station as part of the hard-hitting campaign.
Cathal spends a lot of his time in Belfast and knows the reality of the problem of suicide.
Cathal said: "It doesn't matter how big or tough we are, we all suffer our own heartaches/troubles in life, big or small.
"It's not a sign of weakness to talk about your problems, in fact it takes a bigger man to admit he has a problem and ask for help."
Campaign organisers say they are particularly targeting men, who are said to be three times more likely to take their own lives than women.
Suzanne Costello of Samaritans said: "We know that men remain a high-risk group and we believe that they don't feel able to talk about their problems.
"These can spiral out of control, sometimes with tragic consequences. Talking to someone is better than bottling things up and we hope that the poster campaign will prompt more people to seek support."
Tags: