A number of near misses between pupils and drivers on a busy school junction has inspired parents to take the law into their own hands.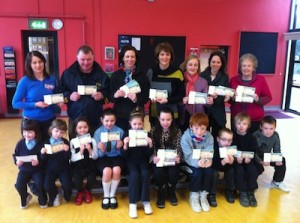 The lack of parking facilities outside Glenswilly National School has always been a concern for parents and teachers.
But now concerned parents, with the support of the school authorities, have shouted 'stop' and started a campaign to buy new car parking facilities.
The four acre site beside the 252 pupil school will now be developed to provide parking overflow and additional facilities.
As funding has not come from the Department of Education, parents say they have no choice but to undertake this fundraising project for the safety of their children.
The school is now delighted to announce a ticket draw will be held in Glenswilly GAA hall on 7th may 2012
Parents have thanked all their sponsors for supporting us and providing much needed financial help and have appealed to the public to get behind their campaign.
Ticket-sellers will now be calling from door to door in the coming weeks.
The draw, which includes many cash prizes, will take place at Glenswilly GAA Hall on May 7th with tickets going on sale now.
Tickets will be priced at €5 each or three for €10.
Tags: