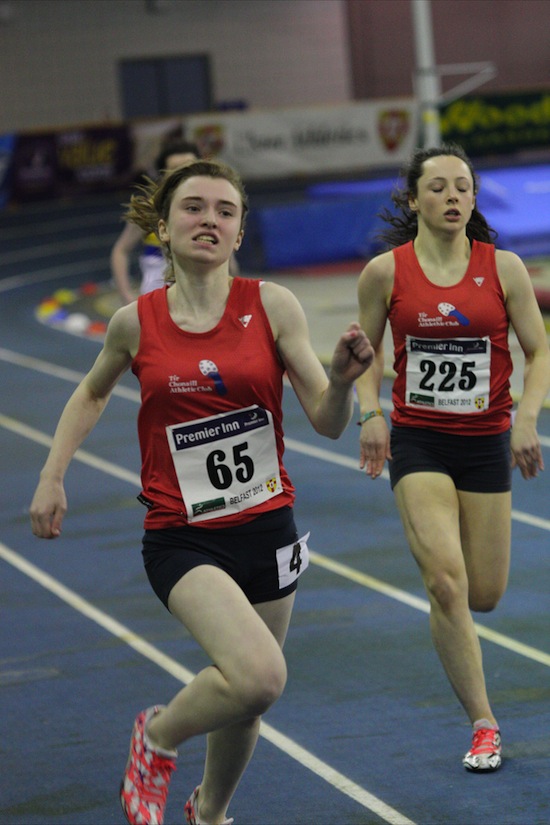 BY EAMON HARVEY: Last weekend,the club's Senior and juvenile athletes made a successful trip to the prestigious Irish and Ulster Indoor c/ships in Belfast's magnificent Odyssey indoor arena.
Mary McLoone led the way with yet another outstanding set of performances in the Triple and Long Jumps. In the former on Sunday afternoon she dominated the field with a series of 12m plus combinations -winning gold with 12.47m.
On Saturday evening jumping a little below her best she managed a silver medal finish with a best of 5.83m.
Club mate Geraldine Stewart, like Mary has come through the juvenile ranks of the club and was back to her  best with a series of putts over 12metres. Geraldine a former national champion and International athlete was more than pleased with a 12.27m best for a silver medal finishing position.
Karl Griffin, the youngest competitor at these championships, made his mark in the 800m.
Late on Saturday evening running in heat 3, he easily qualified for the following day's final. The final was a tactical affair and as the nation viewed on RTE excellent overage on Monday evening, Karl led over the opening pedestrian 300m and had to do battle over the final  lap and half to get up for a silver medal finish – an outstanding achievement for the Donegal Town youngster.
Louise Harvey, now a 3rd level student, and regaining some fitness finished 2nd in her heat of the 400m on Saturday evening – time -61.25secs. The performances of our senior athletes in winning four National medals was an inspiration to the club's youngsters and large adult support that made the journey on both days.
The clubs youngsters certainly responded and the set of performances /results I'm reliably informed , was the best ever at provincial level. Throughout the two sessions of juvenile/age group competition Tir Chonaill athletes were either competing successful or being presented and recognised  on the victory  podium.
Summary
Chloe Masterson, early on Saturday morning set the ball rolling with a PB time of 8.86secs/60m/U15. Kate McGowan,60m Hurdles/U16 ran exceptionally fast times of 9.15secs -heats and 9.11secs to secure her first gold of the weekend. She followed up on Sunday with a victory in the Long Jump/4.74m and 3rd in the 200m final -27.49secs.
In the Hurdles event Ruth Gillespie battled through heats and finished 3rd to Kate. Ciara Doogan had a similar result when finishing 3rd to Kate in the Long Jump. Kelly McGrory was also a busy athlete during the two days. On Sunday evening she dominated the U17 200m final to win in a time of 26.54secs. She added silver medals in the 60m flat -8.11secs and 60m Hurdles -9.57secs.
In the later event Emma Brady added bronze  with a good time of 9.63secs.
Racewalking was introduced into the club two years ago. In the U16 -1,000m,Sarah Timoney, 5mins 43.40, Jessica Quinn, 5mins55.85secs and Ciara Crawford, 5mins 58.45secs made it a clean sweep for the Tir Chonaill trio. Meanwhile in 60m heats Ruth Gillespie ran 8.82secs, Emma Brady,U17/8.49secs, Eva McMullan, U16/8.64secs and 200m/28.76secs, Mark HegartyU16/200m 26.86secs., Christopher O'Loughlin, U16/200m/26.03secs.
Relays are always exciting and competitive. To finish Saturday's juvenile programme club teams won three sets of medals. The girls 4 x 200m U17 quartet of Eamma Brady/Kate McGowan/Eva McMulland and Kelly McGrory ran 1min 49.63secsto push good Lisburn and Lagan Valley teams into the minor placings. The clubs U16 boys team of Mark Boyle/Daniel Gallagher/Mark Hegarty and Christopher O'Loughlin wer pipped for gold in a time of 1min 46.63secs -this group can improve and challenge for medals in the nationals.
Finally the girls U16 team of Chloe Masterson/Ruth Gillespie/Eva McMullan and Kate McGowan with a time of 1min 52.25secssecured silver medals behind an outstanding Lisburn quartet. Sundays session started with Shot Putters Mark Hegarty, winning bronze in the U16 age group -10.55m, Thomas McGowan, Gold in the U14 Shot 11.35m and Chloe Masterson putting 7.26m. Christopher O'Loughlin qualified for the 60m final where he ran 7.89secs for silver and followed up with a long jump best of 5.01m for bronze.
The 800m discipline brought the programme to an end. Daniel Gallagher was delighted to win the U15 Boys event -2mins 14.83secs with friend Mark Boyel in 3rd -2mins 16.63secs. In the Girls U16 Katie Hoad -2mins 45.28secs and Niamh McGrory 2mins 54.97secs brought the weekend to a successful conclusion.
Tags: