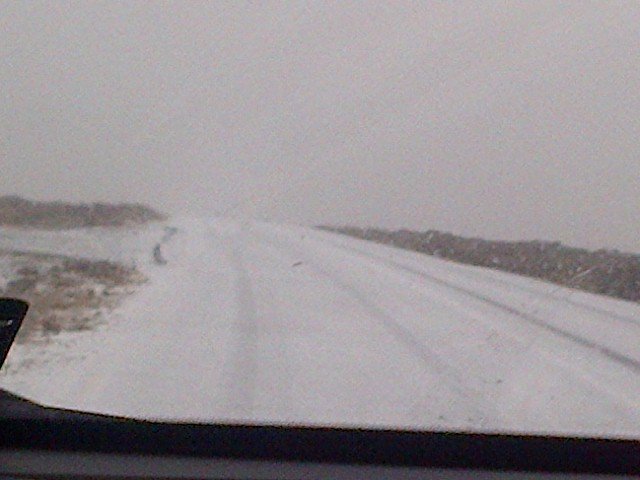 This was the scene on the Back of Errigal road at today after Donegal was hit with a short blast of winter.
Road conditions are said to be hazardous with driving sleet and a fresh falls make roads very slippery.
Further snow and sleet falls are expected later today and tomorrow with ice warnings issued.
"Saturday night will be cold with lowest temperatures of 0 to -2 degrees," said a Met Eireann spokeswoman.
"There is the risk of some wintry showers along the north and northwest coasts, some of the showers will be of sleet or snow on higher ground. As winds become very light there is also the risk of some fog forming as well as a widespread frost.
"It will be a cold and frosty start to Sunday, however it will be generally dry and bright. In the north it will be cloudier with some scattered showers. Highest temperatures of only 4 to 7 degrees in light winds. It will quickly become cold once again on Sunday evening after the sun goes down, with another widespread frost expected as temperatures fall to between 0 and -2 degrees," she added.
The cold weather will clear however overnight on Sunday as cloud and rain move in from the Atlantic and those freshening southerly winds will bring higher temperatures. So on Monday there will be widespread heavy rain with fresh to strong southerly winds. Temperatures will improve and will range from 8 to 10 degrees.
On Tuesday there will be more spells of rain with temperatures of 9 to 11 degrees. The wet and windy but mild weather will continue into Wednesday as well.
In the North, the BBC has issued an amber warning for ice on untreated roads on Saturday night and Sunday.
Tags: