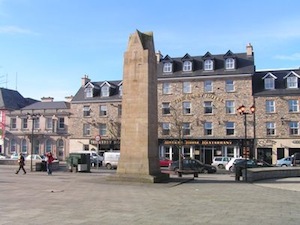 NEWSLETTER
St. Patrick's Church, Donegal Town
Fr. Willie Peoples 074-9721026
Saturday 18th 10.00am
6.00pm Seamus Caldwell – Anniversary
Sunday 19th 9.00am
11.30am Tommy Mulhern – Anniversary
Monday 20th 9.30am
Tuesday 21st 9.30am Birdie Gallagher – Anniversary
Wednesday 22nd 9.30am Ash Wednesday
7.30pm
Thursday 23rd 9.30am
Friday 24th 9.30am James Gallagher – Anniversary
Saturday 25th 10.00am
6.00pm Lily Mc Intyre – Anniversary
Sunday 26th 9.00am
11.30am Michael Thomas – Anniversary
EUCHARISTIC ADORATION – St. Patrick's Church on Thursdays, from 10.00am –10.00pm. All Welcome!
NOTE The Season of Lent commences next week; please note Mass times for Ash Wednesday. Trocaire Boxes are available at the back of the Church.
FIRST HOLY COMMUNION – 2012 – St. Patrick's Church.
GaelScoil Na gCeithre Maistri – 28th April, 11.00am Mass.
Scoil Aodh Rua Agus Nuala – 5th May, 11.00am Mass.
St. Agatha's Church, Clar Fr. Danny Mc Brearty 074-9721093
Saturday 18th 6.30pm Brigid Meehan – Anniversary
Sunday 19th 10.30am The Deceased members of the Martin family, The Glen – Anniversary
Wednesday 22nd 7.00pm Ash Wednesday
Saturday 25th 6.30pm Joe Martin – Anniversary
Sunday 26th 10.30am Adam Colhoun – Months Mind
MASSES DURING THE WEEK-. Monday, Thursday and Friday – 10.00am,
EXPOSITION OF THE BLESSED SACRAMENT -Tuesday from 3pm -7pm in St Agatha's Church, Clar.
CONFIRMATION for the children of the parish will be in St Agatha's Church, Clar on Saturday, 24th March 2012 at 11.00am Mass.
FIRST HOLY COMMUNION will be in St Agatha's Church, Clar on Saturday, 19th May 2012 at 11.00am Mass.
D.A.R.A
There will be a general meeting of all D.A.R.A. members in the Solace Centre on Monday 27th February at 2.45pm, after the Aerobics.
BLUESTACK FOUNDATION
We wish to thank all from St Patrick's Church who contributed to the Bluestack Special Needs Foundation Collection. The Amount raised was €369.26
PEACE MASS
The monthly Diocesan Mass for Peace will be celebrated in St Mary's Church Convoy on Thursday, 23rd February, 2012 at 8.00pm. Bus leaving Main Street car park at 7.00pm.
DONEGAL PILGRIMAGE TO LOURDES
This tour departs on July 16th ex Belfast, 5 nights Hotel Panorama €709.00 per person sharing. For further details contact – Bob/Annie Faulkner 0749721071or 087 4036252, Maura Caldwell 0749723103 or 086 8875787, Patricia Ward 0749721737or 086 8855165, Joe Quinn 0749722119or 087 8362727, Fr. Peoples 0749721026
CITIZENS INFORMATION SERVICE IS COMING TO KILLYBEG
County Donegal Citizens Information Service will be providing a regular outreach Clinic on Monday mornings from 10.00am to 1.00pm at South West Donegal Community Partnership, Old Niall MOR School, Bridge Street, Killybegs. You are invited to drop in and we can provide you with information, advice and advocacy in respect of your rights and entitlements
PARENTS ASSOCIATION. ST. ERNAN'S NATIONAL SCHOOL, BALLINTRA
We are presenting a 'Strictly Gone Country' fundraiser in the Abbey Hotel, Donegal Town on Saturday 25th February at 8.oopm.