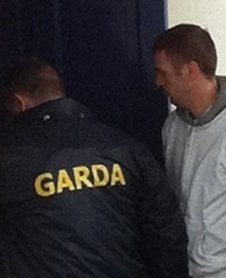 A MAN who appeared in court today in relation to a slash attack in Letterkenny at the weekend was jailed for nine months on separate charges.
Gerard Ward, 31, shouted when Judge Paul Kelly dealt with a number of driving charges including driving without insurance and giving false details to Gardai.
Ward, 31, of 9 Fernhill, Letterkenny appeared alongside Thomas McDonagh, 37, of 42 Hazelbrook Crescent, Letterkenny at town's District Court this morning amidst a very strong Garda presence.
A number of Gardai stood at the front and rear of the courthouse while detectives led the two men into court. They are charged with assault.
This afternoon the court dealt with outstanding charges against Ward.
Judge Paul Kelly jailed Ward, pictured above, for a total of nine months for driving without insurance and other motoring offences. He was disqualified from driving for six years.
Ward was led away from the court. On his return to the court ten minutes later he shouted 'a load of sh**'.
Bail on a number of conditions was granted, with bail to be given once Ward has completed his sentence for the motoring offences.
In the case of McDonagh, bail was granted on a number of conditions including that he reside at his sister's home outside Co Donegal, does not interfere with any potential witnesses, sign at a Garda station once per week and hand over his UK passport to Gardai. His sister put forward an independent surety of €2,000.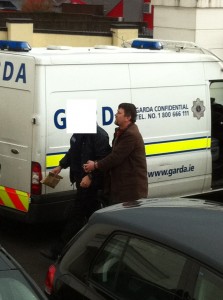 Gardai asked that the address where McDonagh will stay should not be published. The case was adjourned for mention at until February 26th.
Earlier Garda Detective Paul Harte told the court that he arrested both men under section 4 of the Criminal Justice Act in relation to an incident in which a 31 year old man was attacked in the Glenard Park area of Letterkenny on Friday night last.
The man, named locally as Dermot Kildea, was attacked by a number of men.
In a follow-up operation three houses were raided by members of the Garda Armed Response Unit.
An assortment of weapons including hockey sticks, batons, baseball bats and legs of chairs were seized.
Garda Supt Vincent O'Brien told the court that the attack was very serious and that a man had his skull fractured and required 22 staples to his head.
AT HEARING – STRICTY © 2011 donegaldaily.com, all Rights Reserved The copying, republication or redistribution of donegaldaily.com Content, including by framing or similar means, is expressly prohibited by law. Pictures Copyright donegaldaily.com.