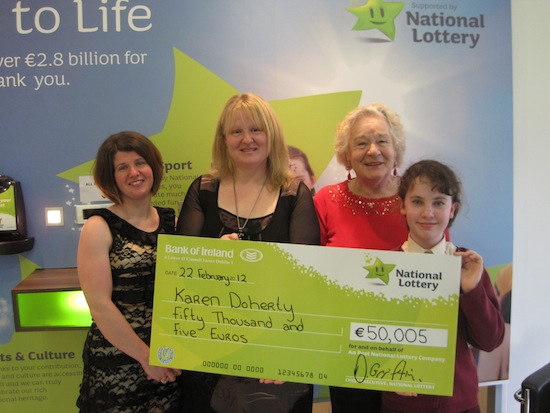 Lucky Donegal woman Karen Doherty is on top of the world today as she collected a cheque for €50,005 in National Lottery offices this afternoon.
Karen won the top snowball prize on the National Lottery's TellyBingo game, she also won the lucky line prize of €5.
The lucky ticket was bought in the Lunch Box in Ardaravan Square, Buncrana on Tuesday 21 February 2012 – as donegaldaily.com revealed yesterday!
Karen, who has only recently started playing TellyBingo, got the shock of her life yesterday when she realised she had won the snowball prize.
"I was watching the draw live on TV yesterday at my friend's house, I was shouting at the telly hoping that number 68 would come out as it was the only number I was missing for the snowball. When it came out I was in shock, I couldn't believe it." said the lucky lady.
"Only a few weeks ago a fortune teller told me that I would win a large sum of money. I still can't believe I am here in National Lottery offices colleting a prize." smiled Karen.
Karen is pictured with her cheque at National Lottery offices in Dublin today. Joining Karen for the celebrations in National Lottery offices today were Ann Conway (mother), Allanágh Conway (niece) and Charlotte McKinley (friend).
Karen, originally from Dublin, intends to keep playing TellyBingo in the future and hopes that she will one day return to National Lottery offices to collect another prize.
Yesterday we also revealed that a Co Kildare woman won €100,000 on a scratch card bought by a relative in Derrybeg.
Tags: