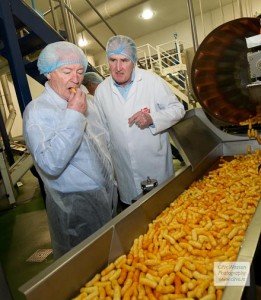 IT has been confirmed today that 26 people are to lose their jobs at a crisp factory in Gaoth Dobhair.
Údarás na Gaeltachta said in a statement that the decision has been taken as a result of requests from workers to get rid of part-time positions at Largo Foods.
The statement comes just two days after Minister and local TD Dinny McGinley approved €579,564 in grants for the Donegal company.
He said that money will assist the company in updating equipment and in funding a research and development programme for new high-value products to be produced in the Gaeltacht for the Irish and British markets.
A spokeswoman for Údarás na Gaeltachta said that 52 part-time positions at Largo Foods are being cut – and replaced with 26 full-time positions.
She added: "There will be no reduction in the amount of hours worked by the employees of Largo Foods.
"The resultant redundancies, which will take place on a voluntary basis, are expected to take place at the end of 2012."
It's understood part-time staff had Family Income Support benefits cut – making their positions "unviable."
Making the cash injection announcement on Tuesday, Minister McGinley said: "This investment is vital in securing the continued presence of Largo Food Exports Ltd. in Gaoth Dobhair.
"The State's investment in this company shows the Government's commitment to consolidating employment in areas such as Gaoth Dobhair in order to sustain viable rural communities and, in particular, to support the Irish language as the community language in a strong Gaeltacht heartland."
Minister McGinley added that this announcement endorses the Government's commitment to retaining Údarás na Gaeltachta's enterprise development function and to the 20-Year Strategy for the Irish Language 2010-2030.
"The creation of jobs in Gaeltacht areas is central to the aim of the Strategy, which is to ensure that the Irish language is passed from generation to generation as a vibrant family and community language," said the Minister.
Tags: