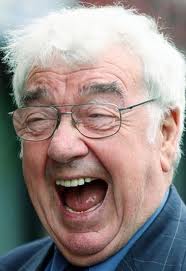 Comedian Frank Carson was really a child at heart who just wanted to have fun, his son Tony said today.
The funnyman, who used to live in Dunfanaghy, had always loved Co Donegal.
Mr Carson died on Wednesday at the age of 85 at his home in Blackpool.
"He was good dad, right up to the end he was very good," his son Tony told BBC Radio Ulster.
"He just had such a positive outlook on everything. There was definitely a child within and he just wanted to have fun and give fun to everybody."
His friend and television presenter Eamonn Holmes said: "The term legend is often overused – but Frank Carson was a legend and we will never ever see his like again. He was just a complete bundle of energy and at 85 he was still going and still cracking jokes. He immortalised the phrase we will all remember him for – 'it's a cracker'."
Carson, who underwent an operation for stomach cancer last year, died surrounded by his family.
They said in a statement: "He went peacefully at his home in Blackpool surrounded by his greatest fans – his extended family. It's quieter down here now. God help them up there!"
Much of Carson's life was dedicated to looking after his wife Ruth, who had serious eyesight problems, with his sons Tony and Aidan and daughter Majella, despite his own heart problems.
Tags: