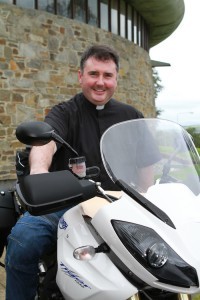 SICKO thieves threatened a parishoner as they ransacked a parochial house – while a priest said Mass, Gardai have confirmed.
Father Gerard Sweeney said he was saying 7.30pm Ash Wednesday Mass at St Aengus Church at Burt when the gang struck.
A woman who had called to the parochial house to help tidy up after building work was dragged around the house as she was asked where his safe was.
Father Sweeney said the parishoner was threatened with a screwdriver as the raiders ransacked each room.
"She had no idea where the safe was," said Father Sweeney, who is well-known throughout Ireland as the motorbiking priest.
"She thought they were going to rape and kill her. When they found the safe, they locked her in a bathroom and she is claustrophobic."
The victim has described her attackers as in their 20s with 'west of Ireland accents.'
The thieves took about €2,500 raised for church and charities as well as parish cheque books and personal cheque books.
Superintendent Kevin English said: "We view this as a very serious incident, where a defenceless lady was subjected to such trauma. Every effort will be made to bring the perpetrators of this crime to justice."
Gardai spent today carrying out a forensic examination of the house. Officers are investigating a possible link to a VW Bora stolen in Carrigans three hours after the raid and found burnt out in Derry.
Anyone who can help should call Buncrana Gardaí on 07493 20540.
Follow us on www.twitter.com/donegaldaily
Follow us on www.facebook.com/donegaldaily
Tags: