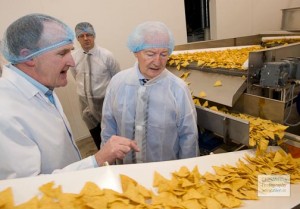 JUST eight new positions have been created at a Gaoth Dobhair crisp factory, nine months after the company announced 35 new jobs, donegaldaily.com can reveal.
The current workforce at Largo Foods in the Gaoth Dobhair industrial estate is 198 full-time and part-time staff.
Last June the company announced 35 new positions. At that time it had 190 members of staff and stated in a press release and at a press conference that the workforce would rise to 225.
Minister Dinny McGinley was at the announcement way in June last year.
But this week when the Minister arrived at the same plant to announce a €570k taxpayer cash injection into the company, there was no mention of the previous press release and the promise of jobs in it.
"The addition of more manufacturing lines, the increase in capacity, and the expansion of the product mix will allow for better efficiencies, increased sales and will help to secure current employment in Gaoth Dobhair," said the Minister at the time of the announcement of 35 new jobs.
But this week as the company announced a new investment in the plant, helped with the Udaras grant, it said in a new press release that it had 198 employees – 27 less than it promised last year.
Last night donegaldaily.com revealed that 52 part-time positions are being axed and replaced with 26 full-time posts.
And we also revealed that although Minister McGinley said there would be 24 new jobs as a result of this week's announcement, we have seen documents which show those positions will come about ONLY if the company develops new snacks which become commercially successful.
The full report of last June's jobs announcement is here https://www.donegaldaily.com/2011/06/20/35-new-jobs-confirmed-for-gaoth-dobhair-snack-company/.
Last night's revelations are here:
https://www.donegaldaily.com/2012/02/23/the-truth-about-crisp-factory-26-people-are-losing-jobs-and-absolutely-no-guarantee-of-new-jobs-despite-massive-grant/
© 2011 donegaldaily.com, all Rights Reserved
The copying, republication or redistribution of donegaldaily.com Content, including by framing or similar means, is expressly prohibited by law.
Follow us on www.twitter.com/donegaldaily
Follow us on www.facebook.com/donegaldaily