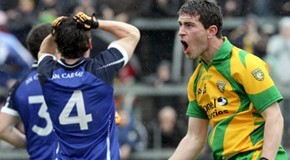 DONEGAL player Patrick McBrearty has launched a staunch defence of Donegal and manager Jim McGuinness – and a scathing attack on the county's critics.
He may only be a teenager, but McBrearty spoke like a seasoned player in an interview for the official GAA website.
"I think the criticism was a wee bit unfair, to be honest," teenager McBrearty said.
"Gaelic football is about how you perform, it's about the final score at the end of the game and what the final score is on the scoreboard.
"I think Jim McGuinness did an unbelievable job with us last year. He brought an Ulster title back to the county for the first time in 19 years and he received criticism for it.
"I think the criticism that was given towards the team was unfair, but you have to take the criticism on the chin and keep going.
"We all have great respect for Jim and what he has done for us as players. Everybody in the squad has the same respect for each other, whether it be the kit man right up to Jim or the captain of the team. Every man is treated the same.
"The work he has done this past year compared to the where Donegal were the past couple of years is unbelievable."
Donegal, having been promoted to Division One of the Allianz Football League, have made a struggling start to 2012 with defeats to Down and Laois.
Tags: