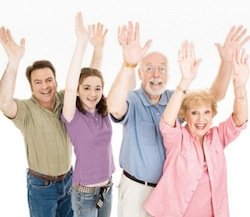 The Good Morning Service County Donegal is launching a new project the 'Friendly Face Befriending Scheme', covering the Inishowen Primary care area.
This new addition is a natural progression for the organisation and will supplement the existing and very successful telephone contact service. It will encompass of all the traditional high standards and qualities associated with The Good Morning Service.
The Friendly Face Befriending Scheme will be aimed at further reducing the social isolation of people over the age of 60yrs in the Inishowen community through the matching of a volunteer befriender with an individual who may feel socially isolated or vulnerable. Volunteers will participate in comprehensive training and have Garda Clearance before they are matched with a befriendee.
The Befriendee can look forward to having a visit from their befriender each week.
The Befriending scheme will take referrals from health care professionals or community organisations and from family and friends; the befriendee will have to complete a short application form and will be visited by the Friendly Face Befriending Scheme Project Organiser in their home at an agreed time.
If you are interested in either using the service or becoming a Volunteer Befriender or just require more information contact Liam Hargan, Project Organiser on 07493 21598 or email: ffbefriending@gmail.com.
Tags: