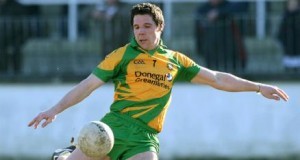 Donegal GAA All Star Kevin Cassidy plans to kick start his new own Gaeltacht Irish summer college – with top-level coaching skills from Ireland's finest athletes.
The 30-year-old Gaoth Dobhair teacher told donegaldaily.com that it has been a very busy time but he is looking forward to the first year of Coláiste Chú Chulainn.
Based in Derrybeg, the Irish Summer College is set to offer a special emphasis on GAA sports as well as cultural and language activities when it opens its doors in July.
The former Donegal captain told us: "We finally secured premises and of course we had to have vetting in place and now with the brochures ready it has been a busy time for myself and Hugh McGinley.
"We have top athletes signed up to come to the college but I don't want to give any names away just yet. They're from all over and we know that parents are paying a lot of money to send their kids to a course so we really want to give them as much as possible."
The father-of –two said he wanted to introduce a special sporting aspect to the course because so many kids are involved in clubs and in all kinds of sports.
"Kids can get pulled in all directions when it comes to their clubs, training, playing and exams. We want to show them how they can manage their study time with their sport, provide nutritional information for them and show them that sport can be a release from study time and can have a positive impact on their time as well.
"We have included aspects of sports psychology that will benefit kids doing their Junior or Senior certificate," said Kevin.
He acknowleged that the cost of summer colleges was hard for parents and said he hopes to be able to offer scholarships to students through their GAA clubs.
Donegal County Council has opened its Gaeltacht Scholarship Scheme for 2012 and applications  must be returned by Friday March 23rd.
For further information about Coláiste Chú Chulainn go to its website
www.chuchulainn.com  or email: info@chuchulainn.com.
© 2012 donegaldaily.com, all Rights Reserved
The copying, republication or redistribution of donegaldaily.com Content, including by framing or similar means, is expressly prohibited by law.
Follow us on www.twitter.com/donegaldaily
Follow us on www.facebook.com/donegaldaily
Tags: