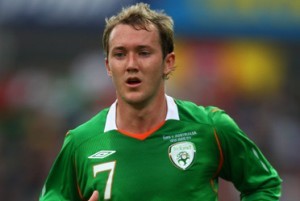 DONEGAL'S Aiden McGeady has welcomed the inclusion of James McClean and Shane Duffy in the Ireland squad – saying competition for places will help the national side.
Derry man Duffy, whose dad is from Letterkenny and former Derry City man McClean were not in Trapattoni's original squad for Wednesday's Czech Republic friendly in Dublin – but both are hoping to make their debuts.
"This is the last real game before the Euros it is a big chance for everyone to impress and get in the manager's final squad selection," said McGeady in an interview for RTE.
"I was actually with James coming back in the car from the airport. We just spoke briefly. The two boys came in today for the first training session. The two of them done well and will be good additions to the squad.
"You have got the chance to impress the manager in training, but game time is when it really counts. It is up to them and it is a great opportunity for them."
McGeady starts his season next week with Sparkak Moscow after a long Russian winter, so hasn't seen much of McClean.
McGeady said: "The last month or so I have been everywhere in training camps. I have not seen much football. I have seen bits here and there.
"From what I know he has been performing well and he looks a really good prospect. Direct and pacey.
"He looks as if he has got a good cross on him as well and a knack of scoring goals. He has been doing really well. He's obviously worthy of his call-up."
The former Hoops man knows McClean could be a threat to his own position.
"It is the same at club level. There are always players vying for the same position," McGeady said.
"Of course if there is somebody who is going to take your place, then you up your game. I try to up my game anyway, but obviously if I do people will say it is down to someone breathing down my neck.
"The more players you have got playing at the top of their game, playing in the Premiership, then of course it is going to be healthy for the squad."
McGeady says he is excited about the Euros – and can't wait until they start.
"I wake up at night dreaming about it just," he told RTE.
"You just want to get to a major finals. Now we have to make sure we stay fit and give ourselves the best possible chance to shine at the Euros.
"Everyone is absolutely buzzing for it and still on a high from last November. We are looking forward to the initial gathering at the end of May and then the championships themselves. It is going to be fantastic.
"We weren't expected to qualify and we did, but now we are there we are going to do everything we can to get out of the group. We are in a very tough group.
"Our record has been good against Italy over the last few years. We played [Croatia] not so long ago and we drew 0-0.
"Spain are obviously the favourites to win the whole competition. But it is not totally unrealistic for us to get out of the group. We have a good set of players and we are due a place in the tournament. We'll see what happens. We'll give ourselves every chance."
Tags: