A Donegal teacher who has become the latest victim of emigration has become a hit – on Aljazeera television.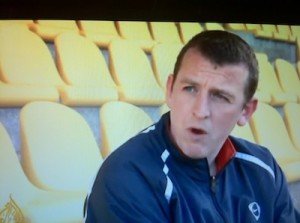 Donnan Harvey has been forced to find a teaching job in Nigeria because he cannot find work in his own country.
The Letterkenny man, 34, was filmed this week enjoying an 'American Wake' with family and friends in his native town.
The station sent a film-crew to Co Donegal for the report which has been broadcast to millions of television viewers across the world since it was set up in 1996.
The station was originaly aimed at Arab-speaking nations but is now a global network which has headquarters in Qatar.
In the report Donnan is pictured sitting in the stand at O'Donnell Park and watching some friends play for St.Eunans.
He tells Aljazeera "Unfortunately there are no teaching jobs here. It is soul-destroying that you want to work in your own country and in your chosen profession ad then you find all the doors are shut," he said
And he adds "I do want to return to Ireland some day. My family are here."
Television reporter Simon McGregor-Wood says Ireland's unemployment levels are at their worst since the 1980's and claims 75,000 will leave the country this year.
He also interviews Donnan's father Joe about his son's plight.
"I paid taxes all my life but the Government of today are selling us all down the river," he said.
To see the full interview click here:
http://www.aljazeera.com/news/europe/2012/02/2012228103831963169.html#.T00B4SClodQ.reddit
Tags: