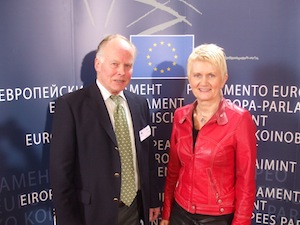 Evidence is mounting to suggest that water fluoridation has no tangible benefits to Irish citizens, and the government would be wise to recognise this fact sooner rather than later, Independent MEP Marian Harkin said today (28 February).
Harkin arranged for Irish anti-fluoridation campaigner Robert Pocock to make the case to a February 28 hearing of the European Parliament's Petitions Committee, noting that "this campaign has been ongoing for many years and is backed by a growing body of scientific evidence".
North & West MEP Harkin added that "the most recent report from the Scientific Committee on Health and Environmental Risks to the European Commission (SCHER) raises very serious questions, especially with regard to children and infants exceeding the upper tolerable level of fluoride intake".
"There is no upper limit for infants less than 12 months but where the concentration of fluoride in drinking water is greater than 0.8 mg/litre – the mandatory fluoridation level in Ireland – exposure to fluoride for those infants who are fed using formula is estimated to be 200 times that found in breast milk. If nature knows best, then there are serious questions to be answered here by the Irish government," she noted, adding that "for children aged 1 to 6, if they consume more than half a litre of fluoridated water and more than a pea-sized application of fluoridated toothpaste they will exceed the tolerable upper level".
"These scientific findings need to be seriously considered by the Minister for Health, particularly when Ireland is the only remaining EU country with a legislative policy for fluoridation of drinking water," Harkin stated.
The Committee heard from Pocock how Ireland and some English Councils stand alone among EU member States in continuing to use fluoridation. Other EU countries "have determined that the unfavourable risk/benefit profile of drinking water fluoridation means that mass medication with fluoride in this way cannot be justified," he noted.
In summation, the Independent MEP agreed with Robert Pocock that "there is strong evidence to suggest that the European Commission is currently neglecting its duty under the Treaty to enforce a range of directives contravened by this fluoride treatment, most particularly the Medicines Directive".
Even if the Commission fails to act, there is enough accumulated evidence at this point for the current Irish government to apply the precautionary principle and give serious thought to ending water fluoridation once and for all".
FURTHER READING PROVIDED BY THE MEP:
"Critical review of any new evidence on the hazard profile, health effects, and human exposure to fluoride and the fluoridating agents of drinking water", a report produced in 2011 by the SCHER (Scientific Committee on Health and Environmental Risks) of the European Commission:
http://ec.europa.eu/health/scientific_committees/opinions_layman/fluoridation/en/about.htm
Ireland against Fluoridation Campaign website:
http://www.irelandagainstfluoridation.org/
© 2012 donegaldaily.com, all Rights Reserved
The copying, republication or redistribution of donegaldaily.com Content, including by framing or similar means, is expressly prohibited by law.
Follow us on www.twitter.com/donegaldaily
Follow us on www.facebook.com/donegaldaily
Tags: