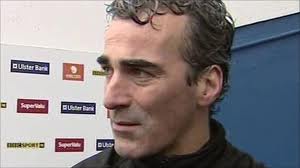 DONEGAL manager Jim McGuinness is delighted to have a full squad back as the Ulster champions prepare to do battle with Cork.
Club and colleges demands on players have eased and he will have a full line-up in the Allianz Division One clash this weekend.
Michael Murphy, Colm McFadden, Eamon McGee, Martin McElhinney and Christy Toye are all available after defeats to Down and Laois.
"With the exception of a few players who have niggling injuries, last night was the first time we had our full squad out on the pitch," he said.
"We had a bit of an in-house game. That is the first one of those games we've had. Everything else is over now. The players are all freed up. From now on it's just about Donegal."
He said the return of his 'big men' will help the Donegal cause.
"Big men make a difference. You can have a small fella who is well put together, but if you have two or three men who are 6ft 3 or 6ft 4 and they are well put together, then it's a different story. Thankfully, those five players are all in that bracket," McGuinness said.
Throw in at Ballybofey on Sunday is 2pm.
Cork SF team to play Donegal: 1. Ken O Halloran; 2. Ray Carey, 3. Eoin O'Mahony, 4. Eoin Cotter; 5. Noel O'Leary, 6. Graham Canty, 7. Paudie Kissane; 8. Alan O'Connor, 9. Fintan Goold; 10. Paul Kerrigan, 11. Mark Collins, 12. Patrick Kelly; 13. Colm O'Neill, 14. Donncha O'Connor, 15. Barry O'Driscoll.
Tags: