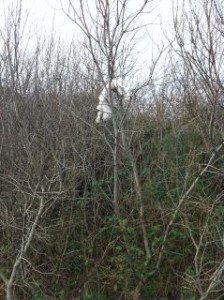 ANIMAL WELFARE officers are investigating after a lamb was found hanging from a tree in Co Donegal.
Donegal Pet Rescue said their officers were shocked at the discovery earlier this week in Lurgybrack outside Letterkenny.
A spokesman told us: "Another sad day in Donegal we received a call today and got a face book message on Tuesday saying "Hi, Don't know if you are the right people to notify, but on the way in to letterkenny top of lurgy brack on the left hand side, there is a dead white cat stuck up a tree, saw it this morning on way to work not sure if its still there as it was dark on way home…"
"On investigation and arriving at the site we were SHOCKED to see a small LAMB around 10ft of the ground hanging from a tree."
Donegal Pet Rescue asked donegaldaily.com to publish this picture.
"We do realise that the photo is quite gruesome but think it is necessary to highlight the level of cruelty going on across the country," said the spokesman.
"During the phone call this morning the woman highlight that her daughter was very upset after seeing the poor lamb in the tree."
LEAVE YOUR COMMENT BELOW
© 2012 donegaldaily.com, all Rights Reserved
The copying, republication or redistribution of donegaldaily.com Content, including by framing or similar means, is expressly prohibited by law.
Follow us on www.twitter.com/donegaldaily
Follow us on www.facebook.com/donegaldaily
Tags: