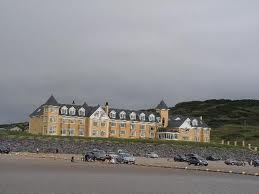 A CO DONEGAL hotel manager who paid €650,000 for his famous premises this week had offered €900,000 for it just a few weeks beforehand, donegaldaily.com can reveal.
But Paul Diver, the proud new owner of the Sand House Hotel in Rossnowlagh, had his offer turned down!
That's because administrators KPMG were obliged to put it on the open market under company rules.
And the reserve price tag of €650,000 was put on the 55-bedroom 4-star hotel in the hope of getting a bidding war going.
But when lot No39 came up at the auction in Dublin on Thursday NOBODY else bid for it.
That meant 46-year-old Paul (pictured) got the chance the buy the beachfront hotel he had managed for the Britton family for the past 20 years.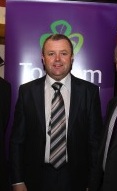 He had been running the hotel since 2009 when the company went into voluntary liquidation.
"He desperately wanted to own the Sand House," a friend said today. "He had made several offers to buy it in recent weeks, including one offer of €900,000.
"But that was turned down because KPMG were obliged to try to get the best price on the open market.
"As it turned out no-one else bid for it even though there were at least six other viewings of the hotel in recent weeks."
Meanwhile the hotelier tells today's Irish Independent that he is delighted to have got the hotel.
"I'm the cat that got the cream," says the father of three.
That interview is here:
http://www.independent.ie/national-news/hotel-owner-paul-cant-help-smiling-as-he-saves-jobs-and-becomes-a-local-hero-3038468.html
Tags: