It might have been one of the mildest winters on record but Donegal woke to a late flurry of snow this morning.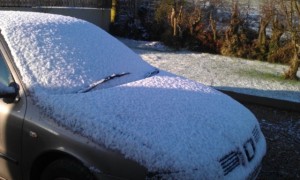 Motorists were forced to clear snow from their cars as temperatures plunged overnight as our picture taken at Mountain Top, Letterkenny shows.
Residents in Letterkenny, Milford and Termon were among the areas worst hit by the March snowfalls.
Gardai were last night warning motorists to drive with care as temperatures were once again forecast to plunge below freezing.
"Some people might think the worst of the winter is behind us but we would ask them to drive carefully over the next couple of days.
"Temperatures have dropped considerably and that brings an added danger to our roads," said a Garda spokesman.
The late snowfalls left picture-postcard scenes of Mt Errigal and Muckish.
"It was a nice surprise to wake up to. I have daffodils up in the garden and they were surrounded by snow. It was lovely.
"Just as long as it doesn't get too heavy," said Letterkenny pensioner May McMenamin.
Tags: