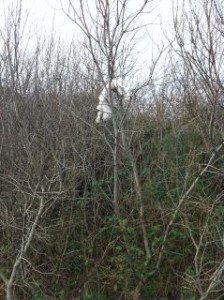 ANIMAL WELFARE officers who found a lamb was hanging from a tree in Co Donegal have ruled out the possibility that it was killed by a bird of prey.
They believe the animal died as a result of an act of cruelty.
Donegal Pet Rescue were shocked at the discovery earlier this week in the Lurgybrack area of Letterkenny.
Claims that it may have died as a result of being picked up and then dropped by an eagle or other bird of prey have been ruled out however; there were no markings on the animal to suggest that.
Donegal Pet Rescue has made no apology for publishing the picture of their gruesome find which was made after a tip-off from a member of the public.
And they insisted: "It is necessary to highlight the level of cruelty going on across the country."
© 2012 donegaldaily.com, all Rights Reserved
The copying, republication or redistribution of donegaldaily.com Content, including by framing or similar means, is expressly prohibited by law.
Follow us on www.twitter.com/donegaldaily
Follow us on www.facebook.com/donegaldaily
Tags: