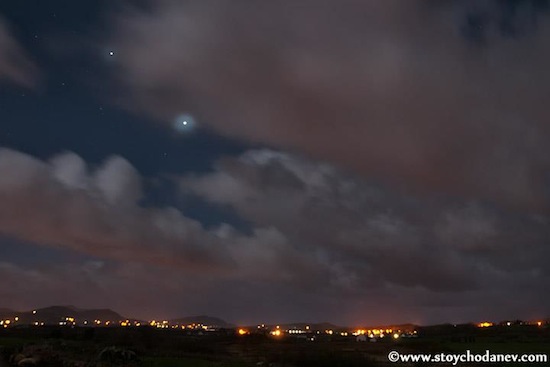 THIS is the incredible scene in the skies above Co Donegal last night.
The Venus and Jupiter conjunction was captured by the brilliant photographer Stoycho Danev.
The lights on earth are from the towns of Malin and Ballyliffin.
The Culdfaff-based snapper took the picture at 9pm.
The Bulgarian – well-known around Inishowen – has dozens of superb pictures of Co Donegal on his website.
You can see more on his Facebook page.
Or you can log on to www.stoychodanev.com.
With pictures like these, who needs a tourist board?
For the Northern Hemisphere, mid-March 2012 presents the best time to see a Venus-Jupiter conjunction in the evening for years to come.
At mid-northern latitudes (Ireland) these two brightest planets – Venus and Jupiter – stay out for nearly four hours after sunset. That's about the longest period possible at these latitudes. You can't miss these two worlds in the west as darkness falls.
LEAVE YOUR COMMENT BELOW
© 2012 donegaldaily.com, all Rights Reserved
The copying, republication or redistribution of donegaldaily.com Content, including by framing or similar means, is expressly prohibited by law.
Follow us on www.twitter.com/donegaldaily
Follow us on www.facebook.com/donegaldaily
Tags: