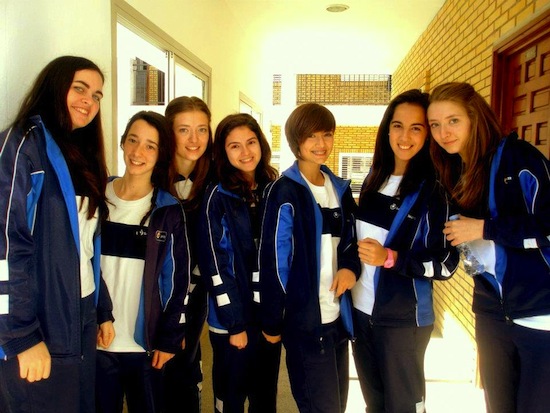 KATE HALEY is a Transition Year student at Loreto Community School in Milford.
Here she takes a light-hearted look at her recent trip to Spain to learn more about that country's language and culture.
And she passes on some great advice to other Co Donegal students planning to go abroad to brush up on their language skills this year in exchanges.
My Spanish Adventure by Kate Haley
My twin sister and I are in Transition Year and we both did Spanish for our Junior Cert. I want to do it for the Leaving so I decided that TY was a great year to start improving my language skills. We have family, a great uncle to be exact, in a town called Almuñecar, near Malaga.
He knew a family who lived in the nearby town of Fuengirola, who were looking to do an exchange. So after a lot of calls and emails, it was all arranged and my sister and I were to go to Spain to live with a Spanish family and go to a Spanish school for three weeks. In July their son, Alvaro, is coming here to Donegal to try and learn some English. Though I don't know how he'll take to the good ol' Donegal accents!
So the big day arrived and my twin sister, my mother and I all drove down to Dublin to catch the 12.30pm flight to Malaga. It was an early start but once we got on the plane and I could start to look up Spanish phrases in my dictionary (unfortunately 'What's the craics?' wasn't there!) it was pretty exciting! We arrived in Malaga after a four hour flight. The sun was shining and things were looking good. My uncle collected us and we all drove to his holiday home in Almuñecar.
We then stayed with my uncle for the first three days of our trip. Then it was time to say goodbye to our mum as she flew back to Ireland and head to Fuengirola where our new Spanish family were waiting. To be honest I was a little nervous at first and at the start it was hard to understand as the family only spoke Spanish to us but having someone you knew, i.e. my sister, there with you did help.
The family were actually so unbelievably nice it was hard not to settle into things. I know you hear of some terrible exchanges where the kids were stuck with some strange family they hate but this was nothing like that at all. After the first few days things started to feel like home.
We had school every week and we had arranged tennis lessons twice a week after school so the weekends were filled with family trips to different cites and other sight-seeing activities.
We visited Granada and went to the Alhambra an amazingly beautiful Arabic palace. We went to Malaga to hear the Philharmonic Orchestra of Malaga play in a concert. We also visited Mijas a small town in the mountains where all the buildings are white. We even hit Marbella for a look around.  Yes, we certainly were immersed in Spanish culture!
Apart from sight-seeing we also got to hang out with a few of our friends we'd met in school, we did a bit of shopping here and there and of course our family trips to the cinema to see movies in Spanish, which basically meant I'd sit there watching the pretty pictures on the big screen!
So the weeks seemed to fly by and before long I was standing in Malaga airport saying goodbye. We really had become part of the family so leaving was really hard. We have promised to return this summer but even then neither my sister nor I wanted to go. Unfortunately we had a flight back to Dublin waiting so after a long and tearful goodbye only the thought of coming back this summer made us get on that plane.
I have truly had one of the most amazing experiences of my life here in Spain and I do believe my Spanish has massively improved. So to anyone thinking of going on an exchange, I'd say you'd be mad not to!
Surviving Spanish School
We all know transition year has a lot to offer but a Spanish exchange?! We get a few tips from one TY student who's experienced school in the sun!
People are extremely friendly so don't shy away from a crowd. On your first day, you will be bombarded by questions like 'where are you from?' and 'why are you here?' Hey, it's a great place to start making friends!
The fact that the Spanish kids speak English that is a thousand times better than your Spanish does make it, oh so tempting to speak in English. DON'T! Stick with Spanish and you'll be thankful you did.
It can be frustrating when all your friends are speaking rapidly in Spanish and all you can do is smile and add in the occasional 'sí' or 'no'. Don't worry about it, things can only get easier and you'll start understanding the gist of things.
When someone asks you a question and you don't understand what they've said, ask them to slowly repeat and at a last resort say it in English. Be careful pretending you understand and answering 'yes' anyway. Seriously you don't know what you could be agreeing to!
Actual classes in school are the hardest to sit through, with the exception of English where you will be the star of the show. I'd advise you to bring some books you can use to improve your Spanish in class otherwise you'll be sitting there with nothing to do and not a clue what's going on.
Don't be afraid to speak Spanish in fear of saying something wrong, say it anyway! If you've messed up the chances are the person you're speaking to will understand anyway and helpfully correct you. You're there learn Spanish so don't be afraid to speak it!
Overall just have fun, enjoy yourself! The weather is better over there and the people are generally nice. Who knows maybe you'll be invited back for a summer in the sun!
Tags: