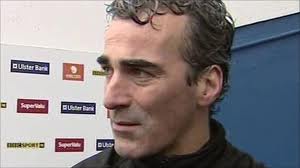 DONEGAL senior team manager Jim McGuinness is delighted his side got back to winning ways with the victory over Cork at the weekend.
The four point win over the Rebels wasn't perfect, he said, but he's delighted to get the victory.
McGuinness told RTÉ Sport: "We had a difficult start to the league and we had key players missing for those first few games. So from our own point of view it was nice to get those players back on the field today and getting a game under the belt.
"Winning the game was definitely a big bonus. There were mistakes made by Colm McFadden, Michael Murphy and Christy Toy while the odd ball dropped short and there was the odd wide that they would normally take. They weren't happening in the first half.
"And that's part and parcel of trying to make a comeback into a team when you've been out for a number of months.
"So we're just happy that those players got the game under their belts and that we picked up the two points so it opens up the division a bit as well."
McGuinness was also happy to blood some young players in his side that helped Donegal see out the win in the closing stages.
"We'd be happy with the younger players and happy with their skill level but sometimes it's difficult for the younger players to carry the weight of expectation on their own completely and it's a different dynamic when you're got your key players and experienced players on the field.
"Then the younger lads coming in off the bench or playing alongside them and playing off them as the other lads have been around a lot of corners so that was nice for the younger lads as well and after the last two games it was nice to get a positive as well and they kicked a couple of scores, which was a big plus as well."
Tags: