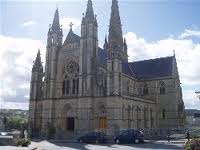 PRIESTS in a Co Donegal parish have hit out at ghouls and vandals behind a string of incidents in parish graveyards.
In a plea to parishoners yesterday, the priests at St Eunan's Cathedral in Letterkenny urged people to be vigilant.
Some items have been taken from graves in Cowal and Leck graveyards and thrown into skips – others have been stolen.
"It has been brought to our attention in the last week or so, that items are being removed from loved ones graves, sometimes thrown in the skip, other times taken from the graveyard altogether," they said.
"This is heartbreaking for the families involved."
The priests pleaded for people to "respect the belongings and graves of others."
They also said that some people weren't treating graveyards with respect and warned that parishoners could be targeted for theft.
"We ask that when attending the graveyards that you are always observant," said the St Eunan's priests.
"We also remind you to always lock your car when visiting a graveyard and leave nothing valuable inside. Please keep dogs on leads and when leaving the graveyards please close the gates."
© 2012 donegaldaily.com, all Rights Reserved
The copying, republication or redistribution of donegaldaily.com Content, including by framing or similar means, is expressly prohibited by law.
Follow us on www.twitter.com/donegaldaily
Follow us on www.facebook.com/donegaldaily
Tags: