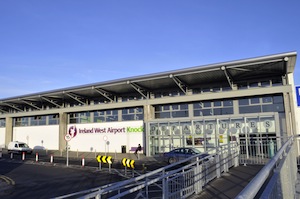 Ireland West Airport Knock continues to see passenger numbers rise at the start of 2012, the operators said today.
And the airport is hoping to attract thousands of people from several European destinations into the west and north west later this month.
For the second year in a row passenger numbers are up for the months of January and February with a particularly noteworthy increase of 16% in passenger numbers versus the same period in 2010.
New winter sun services to the Canary Islands of Lanzarote and Tenerife have been particularly popular with over 5,000 holiday makers from all over Ireland flocking to the airport to take advantage of the cheap fares on offer and the sunny climates in these popular destinations.
A new service to Edinburgh with Flybe has also seen UK passenger numbers increase at the start of the year.
March promises to be an exciting month for the airport as four new mainland European services to Barcelona, Frankfurt, Milan and Paris start at the end of the month with Ryanair reporting record booking numbers on the new flights whilst a new UK service to Leeds with Flybe will also launch.  In total in 2012 the airport will serve over 28 International destinations across the UK and Europe.
Joe Gilmore, MD Ireland West Airport Knock said: "We are delighted to have had a strong start to 2012 in whats generally a quiet time of the year for air travel and in particular its great to see large numbers from all corners of Ireland using the airport and availing of the convenience, choice and low fares flights on offer at our airport."
Tags: