Donegal chairman PJ McGowan has backed Jim McGuinness's decision to refuse an interview with TG4 on Sunday.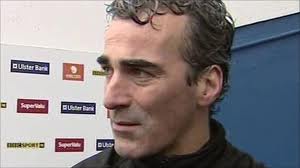 McGowan believes the manager did so after an incident involving the broadcaster before the league game against Laois last month.
McGuinness had been interviewed by presenter Micheal Ó Domhnaill with axed panel member Kevin Cassidy — TG4 pundit on the day — standing alongside him.
It's understood players Rory Kavanagh and Michael Murphy were also asked by TG4 for interviews on Sunday but declined.
After the game, RTÉ's Darragh Maloney conducted an interview with McGuinness using a TG4 camera.
Prior to Donegal's defeat to Laois in Letterkenny, Ó Domhnaill conducted a piece with McGuinness where he asked him about Cassidy, who McGuinness had dropped from the panel for revelations in a book in November.
According to tThe Examiner newspaper a Donegal official had sought to speak with Ó Domhnaill before the game in Ballybofey on Sunday but he was working at the Down v Kerry game in Newry.
"I'm surmising but I would imagine it was the displeasure at how they conducted an interview with Jim alongside Kevin Cassidy at the Laois game when the pair of them were standing adjacent to each other," said McGowan.
"Micheal Ó Domhnaill asked him about their relationship, which was totally unprofessional. I was shocked to see the interview take place like that. We're trying to keep a lid on things but certain elements in the media have taken on this issue. The matter has been dealt with. I fully support what they're doing. TG4 were out of line."
TG4 director of sport Ronan Ó Coisdealbha wasn't available for comment yesterday.
McGuinness follows the example of Tyrone's Mickey Harte who still refuses to speak to RTÉ after he and his family were offended by a segment on John Murray's Radio 1 show last year.
Meanwhile, the GAA have confirmed Donegal broke no rule in fitting Christy Toye and Eamon McGee with heart monitor devices during Sunday's game. The pair were both withdrawn after 31 minutes.
"There is no rule relating to it," said GAA director of games administration and player welfare Feargal McGill. "We have no position on it. County teams have their doctors. It's a new one, but we have fitted referees before with GPS trackers to see how much they ran during games."
Tags: