Finn Harps Football Club have again teamed up with Donegal County Council to assist in the promotion of road safety in the county.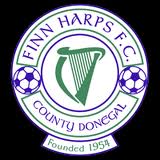 On this occasion, Finn Harps have offered the Donegal Road Safety Working Group a free advertising hoarding in Finn Park to continue its ongoing commitment to raising the awareness of the dangers on our roads.
The road safety advertising hoarding will be designed by a student from one of the county's national schools through an open art competition. The competition was officially launched by Donegal Road Safety Officer Eamonn Brown and Finn Harps Chairman Joey O'Leary at St. Francis National School at Barnesmore.
Speaking at the launch the Road Safety Officer Eamonn Brown said, "We are delighted with the continued efforts of Finn Harps Football Club to assist us promote greater awareness of the dangers on our roads. This art competition will allow a tremendous amount of road safety learning in the schools and it will be a brilliant reward for the winner to have their work displayed in Finn Park for all to see."
Welcoming the guests to St. Francis National School the Principal Elizabth Brown stated, "In St Francis N.S. we place great emphasis on Child Safety and Protection which we address through the content objectives of the Social, Personal, and Health Education (S.P.H.E.) part of the Primary School Curriculum. In this context we welcome Finn Harps and the Donegal Road Safety Working Group initiative on road safety which will address aspects of child protection."
Entries must be original and the applicant's own work and should be on paper no larger than A3 size. Details are currently being sent to all national schools in the county and the competition has a closing date of Friday, 6th April 2012.
Finn Harps Football Chairman Joey O Leary , stated, "Road safety is something we feel very strongly about and this competition offers the club an opportunity to give something back to the communities that support us. I am sure we will see some great artwork submitted and I look forward to seeing the winning design on the hoarding at Finn Park."
Also in attendance was Sergeant Iggy Larkin from An Garda Siochanna.
Sgt Larkin commented, "I feel that it is vital that road safety education to taught to children from an early age and a competition such as this brings the road safety message to the fore. Well dome to all concerned."
Information on the competition can be obtained from Eamonn Brown, Donegal County Council on 074 9172 592 or John Campbell, Finn Harps on 083 3820755. The closing date for the competition is Friday, 6th April and entries should be sent through the school to: The Road Safety Art Competition, Road Design Office, Donegal County Council, Lifford, Co. Donegal.
Tags: