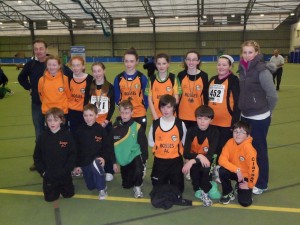 Table quiz in Sharkeys Bar Annagry Sat 10th March @ 9.30pm in aid of 5th & 6th class girls Scoil Anagaire/Rann na Feirsde travelling to Athlone for All Ireland Semi Finals Sportshall Athletics Competition on Thur 15th March. Bígí Linn!!!!!
The club had strong representation in the Ulster Indoor Championships at the weekened in Magherafelt. Tara Harley won Gold in the Girls Under 13 Shot Putt with a throw of 7.03m. The team was Ailíse Nic Grianna, Tara Harley, Caoimhe Ní Bhaoill and Aoise Willoughby. Gold medal for Aoise Willoughby from Kincasslagh in the Girls Under 12 Long Jump with jump of 3.06m. Silver for Caoimhe Ní Bhaoill when she finished 2nd in the Girls Under 13 High Jump with a jump of 1.20m. The Rosses AC Girls Under 13 Relay team ended an exciting day in Magherafelt with Gold in the Relay. There was 4th Place finishes for Milly Doherty in the Girls Under 12 Shot Putt Mia Mc Devitt in the Girls Under 12 High Jump. Overall a great days performances and results and well done to all coaches and those who travelled on the day.
The Donegal Community Games cross country competition will take place in Killybegs on Sun. 11th march at 3.00pm, reg. at 2.30pm. The events are Cross Country u13 1200m (5 boys & 5 girls, panel of 10) .Mixed Distance Relay u12 & u14, boys & girls teams in each event (panels of 6).
The third and last race in the 5k Series is planned for Friday March 16th with a 6:15 start time and registrations at the Banks from 5:45 onwards. This is your last chance to see how much you have improved over since 6 weeks since the initial race. All walkers, joggers and runners welcome.
Registration is now due so please contact Ita Gallagher or any committee member to get registered. 15 euro per child, 20 euro per adult and maximum fee of 40 euro per family. Check out our Facebook page – Rosses Athletics Club.