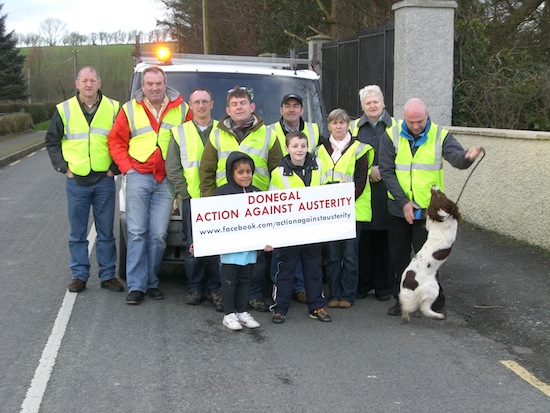 A group of protestors from Donegal are embarking on an arduous walk from Malin Head to Dublin to highlight the effects of austerity measures on ordinary people, and asking the government to simply 'walk a mile in our shoes.'
The campaigners, who have formed the action group Donegal Action Against Austerity, have been holding public meetings in towns and villages across Donegal since early January, and have gained the support of thousands in their own county, and support from outside of Donegal is growing. The group also joined with other groups from rural Ireland last week to march on the Dail from O'Connell Street.
"There is growing opposition to austerity measures, and it's clearly not working and of no benefit to Ireland to continue on this track. Call it protesting, civil disobedience or whatever you like, people just can't handle further attacks on their incomes, or tax hikes for the sake of paying the bondholders. Neither myself, nor my family, caused this mess but we all have to pay for it. There are many more families like mine around this country, and we will not survive additional burdens to be imposed by austerity. The dogs on the street know that more pain is on the way," said Seamus Kee, the group chairman.
The group expect to arrive in Dublin on 31st March, which the group say is symbolic, as it coincides with the payment of €3.1 billion of the Anglo promissory note, the household charge deadline, and also the Fine Gael Ard Fheis.
Joe Murphy, an unemployed builder, who came up with idea of the walk explains that it was inspired by the Burntollet civil rights march in 1969, from Belfast to Derry. "We don't know how many will join us on the walk, but we have been receiving messages of support from around the country. Even if people join us for a mile or two when we're passing through their town, we would be delighted. "
"We understand that other groups from around the country will be protesting at the Ard Fheis on the 31st, so we are asking as many as possible to join us on the last leg of the walk. We were down in Dublin protesting last week, and it will be good to be back there again. We cannot let the government forget about us again."
Businessman John McLaughlin understands that people might question the motives of the group, if not their sanity, and explains, "We are doing this for ourselves, our families, our friends and neighbours. We've sat back for too long, and we're all guilty of it some way, but as far as we're concerned, the time for sitting back is over. Austerity is affecting everyone from children to the elderly, but it only discriminates against the poor and vulnerable."
"But if people do stand up and be counted, they can change things. I have huge respect for the pensioners who rose up against the last government when their medical cards were threatened, and we might well see that again very soon. It goes to show what can be achieved if people put in even a little effort."