The number of salmon on the River Finn may be going down but try telling that to Simply Red star Chris De Margary.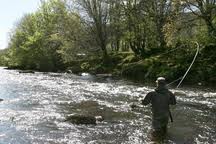 The pop star bought the Glenmore estate with Simply Red bandmate Mick Hucknall several years ago.
But the Loughs Agency, which monitors the Foyle leading to the River Finn, says the number of salmon returning to the river is dropping.
But saxophonist Chris wasn't complaining on the first day of the season on March 1st when he was the first angler to land a fish on the river.
De Margary landed a lovely 7Ib salmon from an area known locally as the Graveyard using a fly at 8.30am.
In the words of his own band, De Margary had to "Do The Right Thing."!!
Tags: