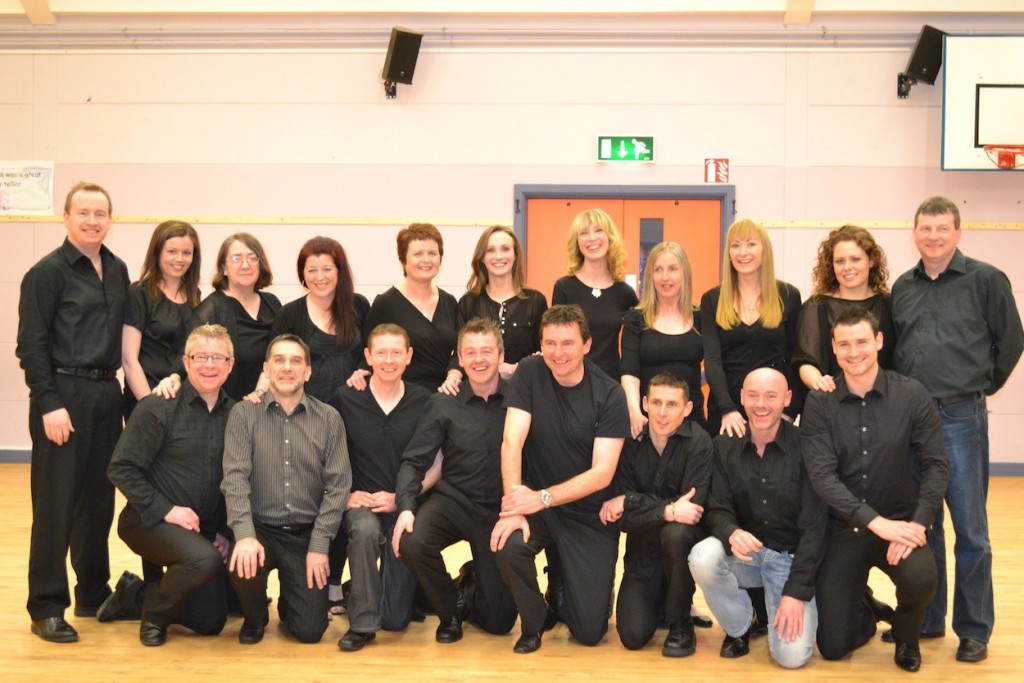 For the past few weeks, members of the community in Illistrin, staff from Scoil Naomh Fiachra, Illistrin and members of the Illistrin Football Club have been practicing their 'cha cha' and 'swing jive' for the upcoming Illistrin Strictly Come Dancing.
All twenty dancers were present for the launch of the night which took place on Tuesday 7th March 2012 in Scoil Naomh Fiachra.
"It has been a hectic training schedule, lots of practice but great fun", said local business man Ricky Boal.
"It is going to be better than Dirty Dancing in the Olympia", he went on to say.
The event takes place on the 23rd March 2012 at 8pm in the Mount Errigal Hotel. Practice has been behind closed doors with very little information on what is in store for the night.
Dance teacher Michelle Pearson is keeping her lips sealed. "This will be one of the best 'Strictly 'shows ever held in Letterkenny. They are a great group to work with and always do what they are told, just come and see for yourself".
"There has been a lot of sweat and tears as I get to grips with the routine", said veteran dancing star, Doreen Kennedy Deputy Principal of the school,
"I have been able to teach the men a thing or two but this is not about competition, it's about the taking part", she added.
The Illistrin Community Development Association (ICDA) is organising the evening along with Lee Gooch Promotions. It is part of their fundraising efforts to complete their community pitch and running track adjacent to the school in Illistrin.
"We have had tremendous support from the local community and the new facility will be a great asset to the area", said Stephen Hasson, chairperson for ICDA. "This will be a state of the art pitch for playing of all games and the running track will allow the local athletes to practice".
"We are hoping for a great night. We expect to have a big turn-out. A very positive thing that has happened as a result of all the practice is that the coaches in the Football Club have improved greatly and dancing should become part and parcel of their coaching plan", concluded Ms. Viona Coyle, Chairperson of The Parents Association.
Tickets are available from either Stephen Hasson (087 9151776) or Maura O'Grady (087 2404678) but hurry as there is a lot of interest to see what 'group dance moves' are made on the night.
Check us out on Facebook @ www.facebook.com/illistrinscd
Tags: