A group of Donegal immigrants, who died in suspicious circumstances in America, have finally been laid to rest.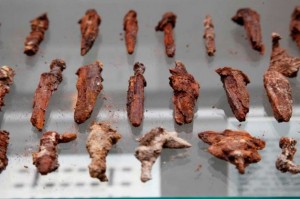 The men and women, known as Duffy's Cut, all died while working on the American railways in the 1800s.
The 57 men and women, all immigrants from Donegal as well as some from Derry and Tyrone, were found buried in a mass grave near Philadelphia.
The group were believed to have died from disease including cholera but it later transpired that many of them died violent deaths.
Their bodies (as well as artifacts including coffins nails pictured right) were discovered during a dig 30ft below railway lines but most could not be reached because of fears of the ground collapsing.
University of Pennsylvania anthropologist Janet Monge found proof of violence in all the remains, including one skull injury that appears to be a bullet wound.
All had been working for contractor Philip Duffy who ordered the bodies dumped en masse in the railroad fill.
Immaculata University, in collaboration with West Laurel Hill Cemetery, yesterday (FRI) held a memorial for the workers as well as burying the remains of those which have been located.
The memorial and burial at the cemetery in Lower Merion included a viewing of the five caskets containing the unearthed bodies from the excavation site.
The burial service was attended by Immaculata President Sister R. Patricia Fadden, Irish Ambassador to the United States Michael Collins.
It included bagpipers and the erection of a 10ft Celtic Cross.
Immaculata History Department Chairman William Watson, who has led efforts to study the site with his brother Frank and others over the past 10 years, maintains some, if not all, of the workers were killed by vigilanties because they were sick.
"We hope this ceremony will bring peace to the souls of the men and woman of Duffy's Cut after almost 180 years of ignominious repose," said Watson.
Ends
Tags: