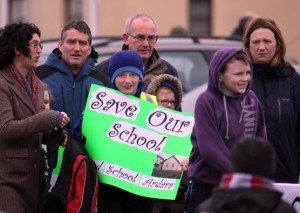 Donegal Senator Brian Ó Domhnaill has slammed the Government for deliberately misleading the public on the cuts facing disadvantaged and small schools from September.
Senator Ó Domhnaill was speaking as of a major protest rally in Letterkenny was taking place today, with thousands of parents, teachers and community groups voicing their anger over education cuts.
"It is simply not true to claim that the Government has reversed cuts to DEIS schools. It has not.  In fact, the part u-turn on Ruairí Quinn's "mistake" only benefits urban primary schools.  Schools in Donegal have been left out, and still face severe cuts this September," he said.
There has been a war of words all week between Ó Domhnaill and representatives of Labour and Fine Gael.
Labour Senator Jimmy Harte accused the Gortahork man of "telling lies."
"The Government is also forging ahead with an attack on small rural schools, and multi-faith schools and Gaeltacht schools in particular.  They are taking a blunt and heavy handed approach, with no consideration whatsoever of a schools ethos or the geography of an area," said the Fianna Fail man.
"He has also given no consideration to the impact on a community of the prospect that they may lose their schools.  Whatever way they want to spin it, this Government is taking every measure to force amalgamations of rural schools.
"Labour and Fine Gael have deliberately muddied the waters to give people the impression that they have reversed their mistakes on education cuts, what the opposite is the case.  I have calculated, school by school across this county, that Donegal schools are set to lose at least 30 this coming September.  In addition to this, 101 of Donegal's primary schools face staff losses and larger classes in September 2013, 2014 and 2015.
"Communities across Donegal will not stand to for this.  Today, we are seeing thousands of parents, teachers, children and community groups take to the streets to voice their anger about the cuts facing their local schools.  They can count on my full support."
LEAVE YOUR COMMENT BELOW
© 2012 donegaldaily.com, all Rights Reserved
The copying, republication or redistribution of donegaldaily.com Content, including by framing or similar means, is expressly prohibited by law.
Follow us on www.twitter.com/donegaldaily
Follow us on www.facebook.com/donegaldaily
Tags: