Today is the day when the ordinary people across Donegal send a message to Government – no more downgrading of our schools.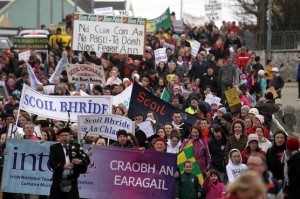 A huge crowd is expected to send that message during a major protest march through Letterkenny this afternoon starting at 2pm.
The protest march is in reaction to the overall cut in education including the announcement that more than 30 teaching post across Donegal are to be scrapped by next September.
Hundreds of schoolchildren and parents are expected to walk in the march which will gather at Letterkenny's Port Road before marching up the town to the Market Square.
There the rally will be addressed by a number of speakers.
They include President of the Irish National Teachers Organisation, Noreen Flynn, the Rev John Deane and Fr John Joe Duffy of Arranmore Island.
Many schools allowed pupils time out to make placards and posters which will be carried at today's protest march.
One of the schools most badly affected by the cuts will be St Eunan's National School in Raphoe which will lose four teachers.
Principal Hugo Lafferty appealed to public representatives to put aside their political loyalties to put children first.
He stressed that today's march was not organised by any grouping, club or political party but by parents and children.
Tags: