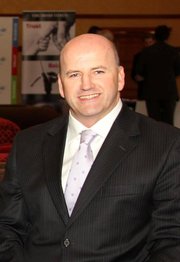 A CO Donegal man who was in the audience for the controversial Frontline programme when a bogus Tweet ended Seán Gallagher's presidential bid has claimed the debate was "strange" and hit out at how questions were asked.
Seán Gallagher has called for an independent inquiry into the RTÉ Frontline debate during the presidential campaign and is to take legal advice over claims regarding the debate.
But what a Donegal man has to say today may add weight to those calls – and they come from a supporter of Dana.
Brian Flanagan, from Buncrana, of the famous Flanagans furniture business, said there was something not right about the programme.
"I and my colleagues were there to support Dana and sat with Fine Gael supporters to the panel's left. Having participated in two similar RTÉ shows I found it a strange experience," he said.
"Having driven down that evening from Buncrana we had been almost the first to arrive. Nobody seemed to be able to direct us. We were ushered into three different reception rooms in quick succession. No question cards were issued until I requested them. None were collected until we handed them in. I got the impression even then that we had driven 200 miles to sit as mere decoration.
"All staff seemed strangely preoccupied and off-balance.
"The programme was conducted in an infuriating way. The only questions that were taken were from the centre one of the three seating groups. The centre was populated by people in their late teens and early 20s. We heard from other participants that this was mostly if not all composed of Foróige youth delegation. Flailing our hands with outraged facial expressions was to no avail. No notice was taken of us."
Mr Flanagan, a long campaigner for Dana, said both her supporters and Fine Gael supporters were furious.
"Both I and the Fine Gael supporters behind me ended up breaking the restraints of good manners by shouting queries verging on insults at both Pat Kenny and his floor manager during the ad breaks. But these top-of-the-voice insults were like water off a duck's back to these guys," he admitted.
"Meanwhile, I was mesmerised at the technical detail of some of the book-keeping and accountancy questions that had been directed at Seán Gallagher by what looked like a 22-year-old.
"Even when the programme was over, none of us realised the moment of what had happened in front of our eyes. I was reminded of the old adage: some people make things happen, some watch them happen and the rest wonder what happened," said Brian in a letter to the Irish Times.
RTÉ has set up a full editorial review to examine the production of live audience-based programmes in the wake of the controversy surrounding the Frontline presidential debate programme.
In a statement last night, RTÉ said it had also begun a "personnel investigation" in connection with the broadcast of a bogus tweet during the debate.
The broadcaster said it has invited former Head of News and Content at UTV Rob Morrison to assist in reviewing the issues in relation to the programme.
Mr Gallagher, whose dad is from Co Donegal, had received massive support in this county.
A former Fianna Fail supporter and fundraiser he is a personal friend of Charlie McConalogue, TD, and had helped launch his election campaign last Spring.
Some supporters want to Presidential election re-run – although he doesn't.
LEAVE YOUR COMMENT BELOW
© 2012 donegaldaily.com, all Rights Reserved
The copying, republication or redistribution of donegaldaily.com Content, including by framing or similar means, is expressly prohibited by law.
Follow us on www.twitter.com/donegaldaily
Follow us on www.facebook.com/donegaldaily
Tags: