St.Patrick's Day came early for revelers in one Donegal town today when passers-by found a rubbish skip full of discarded beer!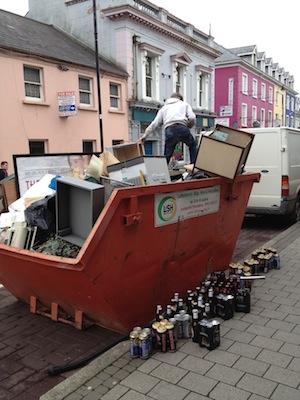 Locals on Main Street in Letterkenny couldn't believe their luck when they came across the assortment of free booze.
The haul of beer contained dozens of cans and bottles of all brands of beer including Guinness, Fosters and Becks.
The booze bullion came from a nearby off-license premises which was being renovated.
The booze was noticed by a passer-by who soon began to unload the haul on the nearby footpath.
Other passers-by began to join him in claiming the free booze.
Some of the revelers used plastic bags to load their booze into before going off on their merry way!
One passer-by said people were stopping to take pictures of the hilarious scene.
"It was so funny. Traffic came to a bit of a standstill on the Main Street as these guys unloaded the skip.
"There was one guy on top of all the other discarded rubbish who released there was a bevvy of booze below.
"I don't think they could believe their luck. At least they won't have to splash out for booze on St.Patrick's Day now," he laughed.
Tags: