A man wrongly accused of being a "sexual predator" has said he does not know if he will ever be able to return to live in Co Donegal after his ordeal.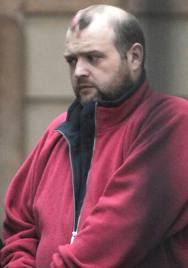 Kieron Coyle had been accused of rape and sexual assault while working as a taxi-driver in Derry last Christmas.
Coyle, 39, has been living in Killygordon with his wife and child for the past number of years.
But people had blanked him and even threatened him since the allegations came out.
However the case against him was dropped this morning by the Public Prosecution Service in Derry.
However Mr Coyle told Donegaldaily.com that his life has been destroyed by the claims.
'The bottom line is that I have never been guilty of any of these claims and I knew that from the start.
"And yet I was held by police for five days and made to feel like a convicted criminal. Mud sticks and that's just how it is.
"I will always be seen as having done something wrong. There are people who were at my wedding and they will not speak to me because of this," he said.
Kieron said he does not known the woman who accused him of rape other than the fact that he brought her to a house in Derry when she was very drunk.
He said he will never forget being arrested and held in prison until he could come up with the bail money.
"I told the other prisoners I was in for drugs offences but rapists and paedophiles are the worst things in prison.
"On my last night there, my name was in the newspapers as a rapist and I went through hell. The other prisoners were roaring and shouting at me. I was terrified and I didn't come out of my cell," he said.
He said he has also been told to "watch his back" by the PSNI as Dissident Republicans had compiled a profile on him.
He said he now just wants to get on with his life but does not known if he will be able to pick up the pieces of his life.
"I love Donegal but I'm not sure if I'll be able to go back to Killygordon.
"I just want people to see that I didn't do this – that I'm not this sexual monster I have been painted as.
"Our lives have been hell but I always knew I never done this. Hopefully I can start again," he said.
Tags: